The 2023 Optimism Quotient: A year of cautious optimism
The Optimism Quotient (OQ) — this survey's primary benchmark for measuring contractor and equipment distributor sentiment on local nonresidential construction activity — is 86 for 2023. In the face of economic uncertainty, executives maintain cautious optimism as they look ahead to 2023. Download the full report to learn more about what to expect this year.
Where we've been. Where we are.
This year's score is guarded, but optimistic for local nonresidential construction. The tempered expectations this year should be understood within the greater economic context of inflation, looming concerns over a recession, and ongoing supply chain disruptions. Contractors and distributors have diverging OQ scores, as distributors (100) have a more optimistic view and contractors (76) are more cautious.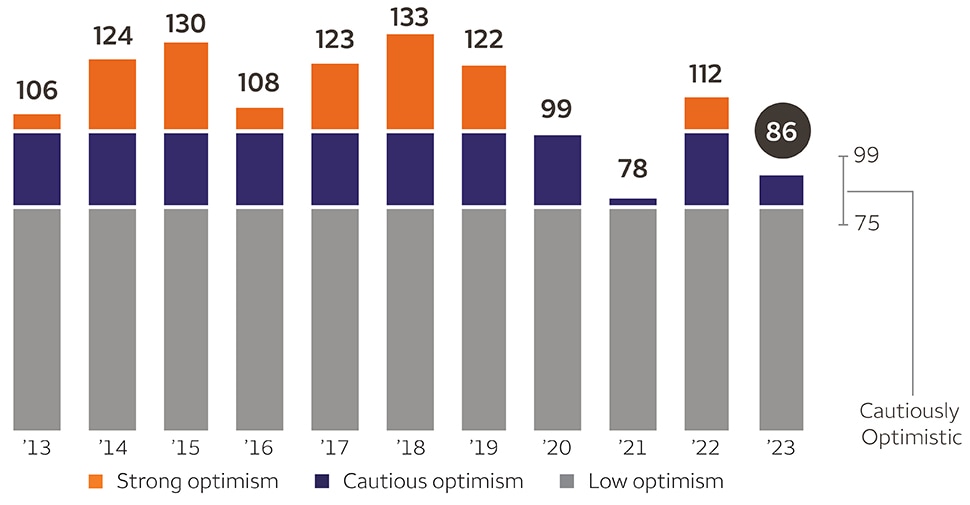 Source: 2023 Wells Fargo Construction Industry Forecast Survey. Base: Total respondents - 320 in 2023 forecast.
Building custom financing for you
Wells Fargo Equipment Finance (WFEF)
Wells Fargo Equipment Finance provides businesses nationwide with competitive fixed- and floating-rate loans and leases that cover a full range of commercial equipment, floor planning, and inventory financing. We have industry financing specialists dedicated to construction, energy, commercial and specialty vehicles, marine, rail, aircraft, and vendor financing programs.
We offer a broad range of direct and vendor finance programs for equipment end-users, distributors, and manufacturers. Wells Fargo Equipment Finance is a leading bank-affiliated equipment leasing and finance provider, with more than $31 billion in assets under management, more than 271,000 customers, and 2,000 team members.
Construction equipment financing
We have deep expertise in the construction industry and offer tailored financing and leasing solutions. Our nationwide coverage allows us to connect our customers with the correct products to help meet their financial needs and Wells Fargo Equipment Finance is a leading provider that offers complete, creative financial solutions for the entire industry. With end-user leases and loans, dealer retail referral programs, dealer rental fleet and floorplan financing, and manufacturer subsidized retail and inventory programs, we have products suited to your particular needs.
To learn more, call us today: 1-866-726-4714, visit Wells Fargo Equipment Finance.