Wells Fargo's comprehensive receivables and trade finance solutions can help you mitigate risks, reduce days sales outstanding or extend payables, and strengthen working capital across your enterprise. Take advantage of our highly experienced team, state-of-the-art technology, and global footprint to promote the growth of your business.
Import/payables solutions
Supplier finance (also known as reverse factoring or supply chain finance) 
Help extend your payment terms, lower financing costs for your suppliers, and strengthen your vendor base using our early-payment supplier finance programs.
Import letters of credit
Documentary letters of credit can help extend your days payable outstanding.  Wells Fargo's long-term issuer ratings may strengthen the quality of your credit standing with your supplier potentially allowing you to negotiate better terms and/or pricing.
Banker's acceptance
Clean banker's acceptance is a flexible financing solution that can help you conserve cash and position you to obtain better pricing from your vendors. 
Open account solutions
Our open account solutions help provide customers with greater visibility, automation, accuracy, and integration throughout the entire transaction process. Qualified customers can use our Supplier Finance program to extend their payment terms and meet their working capital needs while simultaneously offering suppliers a new source of funding.
Export/receivables solutions
Accounts receivable (AR) finance and securitization
Help speed up your cash flow, provide better credit terms, and reduce the risk of non-payment with solutions such as AR discounting, factoring, and securitization.
Export letters of credit
Documentary letters of credit can help expand sales to new international markets and help control your trade risks.
Draft discounting and confirmation
Accelerate your cash flow and extend improved terms to your customers with an early payment discounting or confirmation solution.
Accounts receivable financing
Factoring
Help accelerate cash flow, improve collections, and mitigate risk with working capital financing to support your business now and over time. 
Securitization 
For larger pools of receivables, consider our non-recourse securitization program, both on- and off-balance sheet.
Standby letters of credit and demand guarantees
Standby letters of credit and demand guarantees
Wells Fargo's long-term issuer ratings may strengthen the quality of your credit standing with your counterparty (beneficiary), open new business opportunities, manage risk, and possibly reduce a deal's overall costs.
International factoring
Accelerate your cash flow, lower the risk of overseas sales, expand to new markets with open account terms, reduce bad debt losses, and convert costs from fixed to variable with our international factoring platform.
Solutions for financial institutions
Import bank solutions
Enhance your ability to finance your customers' trade transactions with L/C reimbursement financing, usance L/C payable at sight, letter of credit confirmations, and irrevocable reimbursement undertakings.
Export bank solutions
Grow your export funding options and increase your control of credit, interest-rate, and counter-party risks with international factoring and other financing solutions.
Financing and credit protection
Increase liquidity, strengthen credit quality, and facilitate new business opportunities for you and your customers with SWIFT trade loans, standby letters of credit, and demand guarantees.
Digital channels and innovation
Wells Fargo VantageSM online platform
Offered through the Wells Fargo VantageSM platform (formerly Commercial Electronic Office®), our online trade services portal enables you to streamline transaction initiation, presentation and payment activities, supported by powerful inquiry and on-demand reporting features.  Clients can manage all transaction types on a single platform, from letters of credit to open-account activities, and for the full transaction lifecycle, from purchase order to payment.
ICE Digital Trade (formerly known as essDOCS) partnership
Streamline and accelerate your export documentation preparation processes through Wells Fargo's partnership with essDOCS, a top provider of fully digital trade document management solutions across a global network of shippers and carriers supporting electronic bills of lading and other trade documents.
Client ERP integration
Integrate your receivables and trade activities with our back-office systems via our system-to-system electronic Enterprise Resource Planning (ERP) connectivity solutions. Our proprietary platform enables flexible options supported by our worldwide network of experienced trade processing and customer service professionals.
Our footprint is truly global
Wells Fargo has experienced, skilled strategic consulting and transactional processing teams located across the United States and around the world, helping you conduct business with greater speed and confidence. Our extensive correspondent bank network also can help support your trade and working capital needs globally.
We're focused on digital transformation
Wells Fargo's Global Receivables and Trade Finance (GRT) group develops and deploys a blend of proprietary and third-party technology solutions to help our customers.  GRT leverages its extensive experience and culture of innovation to deliver industry-leading digital tools and technology that help clients manage their business effectively, from working capital optimization to fraud detection and prevention.
You can sign documents with a click, integrate your ERP platform with our systems, and leverage our industry leadership to conduct digital trade around the world.
Gain the Wells Fargo Advantage
As part of Wells Fargo, we can offer additional complementary products and services including global Treasury Management and Foreign Exchange to help meet the needs of companies operating globally. Wells Fargo's exceptional capital strength, solid long-term credit ratings, and industry experience can help your company reach its vision for the future.
Economic and industry insights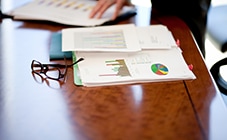 Economic outlooks
Read our commentary and insights on U.S. and international financial markets.

Industry insights
Read our industry articles and business viewpoints.