By Cynthia Caine, Head of Commercial Auto, Wells Fargo Commercial Banking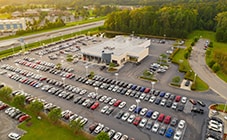 Franchise automotive dealerships across the U.S. have many reasons to be positive. Stronger supply chains have alleviated pent-up demand. Favorable market conditions have strengthened profit margins and improved liquidity. Electric vehicle (EV) sales and service are fueling new revenue streams. E-commerce and omnichannel capabilities will clearly underpin more efficient long-term business operations. 
Now, with their sights set on growth and efficiency, savvy dealers are looking to 2024 and beyond. 
Valuable insights, collaborative planning can fuel what's next 
It's an ideal time to engage with your commercial auto lender and develop your roadmap. A bank with automotive industry expertise can provide far more than just capital to support dealers in achieving your goals. 
Planning sessions can provide valuable insights for key decisions such as:
What is the best way to finance our infrastructure investments to support EV sales and service?
What are the risks, opportunities, and implications of accelerating growth via acquisition of other dealerships?
Can bank technology improve our efficiency, decision-making, and customer experience?
How can we use our excess cash to our advantage? 
Where can additional commercial financing support our goals for growth, liquidity, diversification, and succession planning?
While every dealer's plan will feature different elements, your bank can share market trends from your region and across the country, as well as offering best practices to improve performance, and real-world examples from franchise dealers in similar geographies. These insights and data points can provide valuable perspective as you explore what's next for your dealership. 
Find a resource with expertise, innovation, and longevity
From optimizing your floor planning, to financing upfits for EV adoption, to helping dealers mitigate payments fraud, your commercial auto bank should be an ongoing resource and a continual source of new ideas for your business. 
As you evaluate your current relationships, look for a bank that can deliver:
Dependability and longevity in the industry, with guidance to help you thrive in all types of economic cycles. 
Technology innovation, with ongoing investment in dealer systems and interfaces that make it easy, safe, and insightful to do business. 
Ingenuity and expertise, taking a consultative and collaborative approach that prioritizes your needs and propels your franchise dealership forward. 
Scale in lending, with adequate capital to support your goals today—and in the future. 
Wells Fargo takes pride in our longstanding commitment to the commercial auto industry; we've been helping dealers thrive since 1945. In fact, our "all in one" approach to commercial auto means you can work with a single relationship team for proven solutions that span your floor planning, commercial real estate lending, acquisition financing, and treasury management needs.
In 2022 alone, Wells Fargo worked with 3,000 dealerships, floored over 531,000 vehicles, provided $23 billion in annual financing, and maintained $12.3 billion in lending commitments. 
As the industry continues to evolve, we look forward to using our expertise, experience, and technology to maximize profits and efficiency for all our commercial auto clients.