Mortgage affordability calculator
Find out how much house you can afford with our mortgage affordability calculator. Get an estimated home price and monthly mortgage payment based on your income, monthly debt, down payment, and location.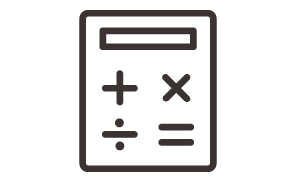 Calculate interest rates on mortgage loans
Estimate your monthly payments, closing costs, APR and mortgage interest rate today.





If you're ready to apply online, let's go
Call 1-888-446-2350
or find a mortgage consultant in your area


Home Mortgage FAQs
What home financing basics should I understand?
If you obtain home financing, you'll repay more than the amount you borrowed because the amount you repay is determined by several factors, including the interest and loan amount. Here are some terms you should understand.
Interest rate 
The interest rate is the percentage of your loan amount we charge you to borrow money.
Interest rates are based on current market conditions, your credit score, down payment, and the type of mortgage you choose. Check today's rates.

Discount Points
One point equals 1% of your mortgage amount; however, 1 point will typically reduce the interest rate by less than 1%. If you qualify, you may be able to pay one or more points to lower your interest rate. A lower interest rate means lower monthly mortgage payments.
Points are usually tax deductible. Consult a tax advisor regarding tax deductibility. On refinances you may be able to finance points as part of your mortgage amount. 
Origination charge
On a mortgage, this amount includes charges (other than discount points) that all loan originators (lenders and brokers) involved will receive for originating the loan.
The origination charge covers items including fees, document preparation, and underwriting costs, and other expenses.
On refinances, if you qualify, you may be able to finance the origination charge as part of your loan amount.
Loan term
Your loan term is the amount of time you have to pay off your mortgage balance.
Shorter loan terms typically mean higher monthly mortgage payments, but often have lower interest rates.
If you pay off your mortgage balance within a shorter term, you may pay less in total interest than with a longer-term mortgage. 
Remember that interest rates only tell part of the story. The cost of a mortgage is reflected by the interest rate, discount points, fees, and origination charges. This cost is known as the annual percentage rate (APR), which is typically higher than the interest rate. The APR lets you compare mortgages of the same dollar amount by considering their  annual cost.
Monthly mortgage payment
Your monthly mortgage payment is typically made up of four parts:

Principal. The part of your monthly payment that reduces the outstanding balance of your mortgage.
Interest. The part of your monthly payment that goes toward the cost of borrowing the money. 
Taxes. The part of your monthly payment that goes toward property taxes charged by your local government. We typically collect a portion of these taxes in every mortgage payment and hold the funds in an escrow account for tax payments made on your behalf as they become due.
Insurance. The part of your monthly payment that pays for homeowners or hazard insurance, which provides protection against losses from property damage due to wind, fire, or other risks. Like taxes, insurance costs are usually collected and paid from an escrow account.
Depending upon your property location, property type, and loan amount, you may have other monthly or annual expenses such as mortgage insurance, flood insurance, or homeowner association fees.
Video – The components of a mortgage payment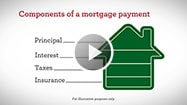 Watch this video to understand what makes up a typical mortgage payment – principal, interest, taxes, and insurance – and how they can change over the life of the loan.

Check today's rates to see our current interest rates.  
How can I start my mortgage application?
Get started through any of these convenient ways:
Apply online
Our simplified and secure online mortgage application will walk you through the process step by step. If you're a Wells Fargo customer and use your Wells Fargo Online® username and password at the start of your application, we'll prefill some of your information, making it easier to complete the application. Some features of the online application are not available with all loans; talk to a home mortgage consultant.
Talk to a consultant
You can also connect with a home mortgage consultant and have a conversation – about your home financing needs, your loan choices, and how much you may be able to borrow. When you're ready, your home mortgage consultant will help you complete an application.
What happens after my mortgage application is submitted?
We'll send you disclosures listing your loan terms as well as estimated payments, and your application will be reviewed by an underwriter.
During the financial and property review, we'll:
Verify your employment, income, and financial information
Order services such as an appraisal, title insurance, and flood certification.
Send you a list of conditions, upon loan approval, that have to be met before you can prepare to close your loan.
Learn more about the documents you may be asked to provide.
You'll need homeowners insurance to close your loan. Get started by contacting your insurance company or learning more about homeowners insurance.
How much money will be required at closing?
The amount you'll need to close your loan includes your down payment, closing costs, and prepaid escrow amounts for property taxes and insurance. Prior to closing, you'll be informed of the final amount.