Get Started 
Add your card using your iPhone® and Wells Fargo Mobile® app—take the tour to see how. More ways to add your cards to Apple WalletTM.
iPhone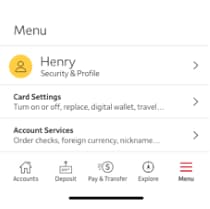 1. In your Wells Fargo Mobile app, tap Menu in the bottom bar, select Card Settings, then tap Digital Wallet.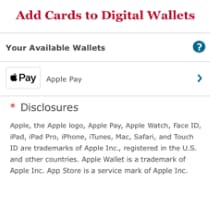 2. All eligible Digital Wallets will display. Tap Apple Pay.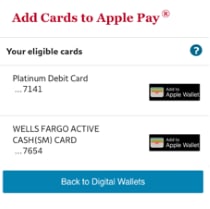 3. All eligible cards will display. Tap the Add to Apple Wallet button next to the card you want to add. Follow any additional instructions to verify and activate your card. Your card is now ready for use with Apple Pay.
Apple Watch®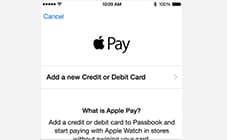 1. Open the Watch app on your iPhone and tap Wallet & Apple Pay, then tap Add Credit or Debit Card.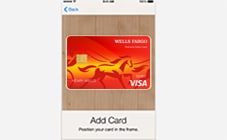 2. To automatically enter your card information, position your card in the camera frame, or manually enter your card details. Then enter your card's security code and read and accept the terms and conditions.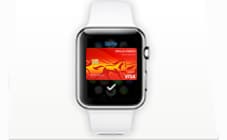 3. Provide all additional information to verify and activate your card. Your card is now ready for use with Apple Pay on your Apple Watch.
Pay Securely

Apple Pay replaces your actual card number with a unique digital card number. This means businesses do not see or store your full card number.
Easy to Use

Confirm your identity (using Face ID® or Touch ID®) on your device, and tap to pay at any business that displays the Contactless Symbol, as well as online and in apps.
Accepted in many places

In stores, simply tap your mobile device where you see the Apple Pay logo or Contactless Symbol at checkout. Or select the Apple Pay logo when shopping online and in apps.
Tap for ATM access

Just add your Wells Fargo Debit or Wells Fargo EasyPay® Card to Apple Pay and access any Wells Fargo ATM by tapping on the Contactless Symbol.
Peace of Mind

And when you use your

Wells Fargo

cards with a digital wallet, you will continue to have the added security of 24/7 fraud monitoring and Zero Liability protection

.