Our smartphone and tablet apps are made specifically for your device. They give you fast access to account information and use your device's built-in functions to provide a better banking experience. They come with no separate fees from Wells Fargo (your mobile carrier's text messaging and web access charges may apply).
In addition to the iPad and Android tablet apps, our banking apps are supported on Android, iPhone®, and Windows Phone devices.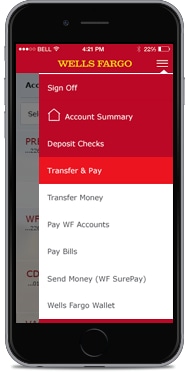 With apps you can:
Deposit checks with supported Android, Apple®, and Windows Phone devices1 
View check and deposit images
Pay bills
Transfer funds
Send and receive money by email address or mobile number
Explore detailed account activity
View balance information without signing on
Utilize GPS to get one-touch access and directions to ATM / location information
Access our ATMs without your ATM or Debit card
Sign on with your Fingerprint
Receive Push Notifications
Want more info?