Top Questions
More Information
Top Questions
How do I apply for home equity financing?
To apply for home equity financing, you must own a primary residence, investment property, or vacation home. If you don't own property, you might want to consider a personal loan or line of credit instead.
It's easy, fast, and secure to apply:
Gather essential information
Before you start the home equity application, have the following information on hand:
Financial information. Income, asset, and expense information.
Property information. Estimate a realistic value of your home.
Funds needed. Carefully evaluate the line of credit amount you'll need.
Tip

You'll need to provide documentation to support the information on your application later on in the process, so it's a good idea to start gathering the documents now.
Submit your application
It's easy to get started. Choose to work with us whichever way is best for you:
Online. Fast, easy and secure and it will take about 10 minutes. Apply Online.
Over the phone. Speak with a home equity specialist at

1-888-667-1918

.
In person. Find a Wells Fargo location near you.
Remember, if you have questions, our home equity specialists are ready to help. You can also track the status of your application 24 hours a day, 7 days a week with yourLoanTracker.
How much can I borrow with home equity financing?
The amount you can borrow is largely determined by your available equity, property type, and credit qualifications. To determine your available equity for a primary residence, take 80% of your home's appraised or fair market value and subtract the balances of any outstanding mortgages and liens on the property. If you qualify, the minimum home equity line of credit amount is $25,000 and in most cases the maximum is $500,000.
How can I use my Home Equity Line of Credit?
Your line of credit gives you convenient access to available funds at an interest rate that's typically lower than many other forms of credit.
Viewing your account
You'll receive monthly statements in the mail. And you can view your account online with Wells Fargo Online®. You can set up recurring payments so that you don't forget to make a payment, or switch to paperless statements to help prevent fraud.
Accessing your funds
Access credit when you need it. Your revolving line of credit allows you to access your available credit as you pay down your principal balance.
Using your line of credit
Your home equity line of credit is an easy and convenient way to obtain financing for a variety of situations, including:
Home Improvements. Use your home equity line of credit to finance home improvements that may boost your home's value and make your home more enjoyable.
Large purchases or unexpected expenses. Finance important purchases, or be prepared for unexpected expenses.
Your Home Equity financing may provide tax advantages if it's used to improve, buy, or build a home. Talk to a tax advisor for details.
Check out our quick guide to accessing your home equity line of credit online.
How can I pay down or pay off my account?
Paying down your home equity line of credit doesn't mean you have to close your account. In fact, there are significant long-term benefits to keeping your line of credit open, even at a zero balance. You'll:
Retain quick access to available credit for unexpected expenses or major purchases.
Spare yourself the need to reapply and be approved again in the future.
Of course, you may arrange to pay off and close your entire line of credit at any time. Please call us at 1-866-404-3149 to discuss your options.
Refinancing your home mortgage?
Depending on the current interest rates, homeowners may choose to refinance their first mortgages. Typically, the bank refinancing your first mortgage will pay off and close your home equity line of credit account.

However, you may be eligible to refinance and keep your Wells Fargo home equity account open — allowing you to keep your current home equity line of credit account, terms, and access to funds — through a process called subordination. Learn more about subordination and see if it may be right for you.
What are the benefits of a fixed-rate advance option?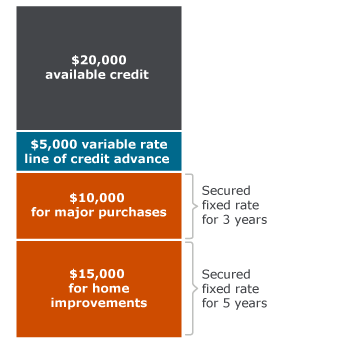 If you'd like a fixed-interest rate, a fixed-rate advance option may be the right choice for you. It's an easy way to manage your monthly payment and protect yourself as interest rates rise. Many Wells Fargo home equity lines of credit already have this feature as part of the account.
How It Works
The fixed-rate advance option gives you the flexibility to secure a fixed-interest rate on any or all of your outstanding line balances during the draw period so your payments remain the same month after month.
Benefits of a Fixed Rate
In addition to securing a fixed rate, this option gives you the power to:
Choose the amount of your outstanding variable-rate line of credit balance that you want to move to a fixed-rate option.
Change your fixed-rate advance back to a variable-interest rate at any point during your draw period. The transferred funds will be charged the variable-interest rate that's in effect at the time of your transfer.
Plan for your future monthly payments with a fixed-interest rate on specified balance(s).
Choose the term of your fixed-rate option.
Use your line of credit in the way that works best for you
Your home equity line of credit gives you the flexibility to configure your balance in the way that best meets your needs. Call 1-866-834-9761 to review your needs with a Wells Fargo Home Equity Specialist.
Example: $50,000 Home Equity Line of Credit With An Outstanding Balance of $30,000
$25,000 of the outstanding balance is transferred to a fixed rate option
$5,000 of the outstanding balance remains at the variable interest rate
$20,000 remains as available credit during the draw period
More Information
Resources
Tools and Calculators
Applications and Rates