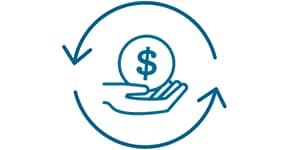 New customer offer: $0 annual fee for the first year
$5,000 to $100,000 revolving credit line
Rates as low as Prime + 1.75%
No collateral required
Automatic enrollment in a free rewards program

Includes Wells Fargo BusinessLine® Line of credit and Wells Fargo Small Business Advantage® Line of credit
Best For
Supplementing cash flow
Expanding your business
Covering unexpected expenses
Other Features
Mastercard® access card
Easy-to-use checks
Access online or by phone
No foreign transaction fees
Fees and Rates
Depending on eligibility, you could qualify for 1 of the following:
Wells Fargo BusinessLine® Line of credit: Ideal for businesses in operation for 2+ years.
Wells Fargo Small Business Advantage® Line of credit: Ideal for businesses in operation for less than 2 years.
Fees
Annual fee. $0 for lines of credit $5,000 – $9,999; $95 for lines of credit $10,000 – $25,000; $175 for lines of credit $25,001 – $100,000.
Cash advance fee. No cash advance fees when using the BusinessLine Mastercard unless over the counter or at an ATM (excludes SBA).
Details
Amounts. Credit lines from $5,000 to $100,000.
Terms. Revolving line of credit, no scheduled annual review (5-year term for Small Business Advantage).
Rates. Rates as low as Prime + 1.75%; interest charged when you use the account.
Collateral. None needed.
Wells Fargo Business Line Rewards Program
Wells Fargo unsecured business line of credit includes exclusive rewards with no annual program fee, no cap or categories to keep track of. Use your Mastercard access card to make purchases from your line of credit. See how easy it is to earn points and redeem them for thousands of great items.
Earn 1 point for every $1 in net purchases using your Mastercard
Receive 1,000 bonus points every monthly billing period you have $1,000 or more in net purchases.
Get 10% bonus every time you redeem your points online.
Redeem your points for travel, gift cards, merchandise, and much more.
Earn extra bonus points or discounts from Earn More Mall retailers.