Set up alerts, and bank the way you want
Balances and activity
Help avoid late fees and overdrafts with alerts for:
Upcoming payments due
Low account balance
Recent deposits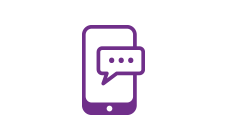 Choices
Choose the alerts you want and how you want to receive them — email, text message, or push notification. Change your preferences anytime.
Protection
Protect your account access by setting up additional security alerts to notify you of important sign-on related activity.
Update your information
Make sure your notifications are sent to the correct contact information. Simply verify, add, or change your email address, phone numbers, or mailing address.
Customized alerts are just a few clicks away
Choose your alerts, and how you want to receive them.
You're all set to receive the alerts you've selected.