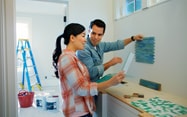 Taking care of ongoing home repairs and tasks can help you keep your house safe, comfortable, and energy efficient—but it takes money and time. Consider these five tips to budget for ongoing home improvements:
Tip 1: Set aside money for ongoing home maintenance
Some specialists recommend setting aside 1% to 2% of the purchase price of your home each year for routine maintenance projects such as roofing repairs, sewer updates, or new appliances — each of which can cost several thousand dollars. If 2% seems too much, consider starting with less and working your way up. Finally, if your home has greater maintenance needs, consider whether budgeting more than 2% is necessary.
You probably won't need to repair everything at once, but it's a good idea to have money set aside for when problems do arise.
Tip 2: Set up automatic transfers to save for home maintenance
Consider creating a separate home maintenance account and funding it with automatic transfers. How much should you transfer?
Calculate 2% of the purchase price of your home. For example, 2% of $250,000 is $5,000.
Divide the amount by 12 to calculate your monthly transfer—for this example, approximately $415.
If that amount is too much, consider an amount that fits your budget and work to increase it over time.
Give the separate account a nickname such as Home Maintenance and get peace of mind watching the balance grow over time.
Tip 3: Budget for home improvements
In addition to ongoing maintenance and repairs, you'll probably want to make home improvements over time, such as new carpets, kitchen counters, or windows. You may want to make improvements to your landscape as well. These improvements can make your home more enjoyable and attractive.
Tip 4: Find additional ways to build home improvement and maintenance savings
Look for expenses you can cut out of your monthly budget, such as buying coffee every day or frequently eating out. Transfer the money you would ordinarily spend on those items into your home maintenance account. If you receive a tax refund, consider placing it into your home maintenance account.
Tip 5: Use online tools to manage your finances
Our online tools can help you budget and plan your finances easily:
My Spending Report with Budget Watch: Tracks purchases you make with your eligible Wells Fargo credit card, debit card, and checking account. You can also track your Bill Pay transactions. If you don't have Online Banking it's easy to sign up.
Budget Watch: Allows you to create a simple online budget in just minutes. Updated each business day, Budget Watch provides you with daily Money In and Money Out flows, so you can see how close you are to meeting your budget goals.
My Savings Plan®: Helps you save for your goals and automatically monitor your progress.
Start with simple steps
Budgeting for home maintenance and repairs can seem overwhelming, but if you start putting a small amount aside on a regular basis, you'll be more likely to have the money to pay for repairs and maintenance when needs arise. When you maintain your home on a regular basis, you help protect the value of one of your most important assets.
Empower yourself with financial knowledge
We're committed to helping you as you work toward financial success. Here you'll find a wide range of helpful information, interactive tools, practical strategies, and more — all designed to increase your financial literacy and help you reach your financial goals.