Wells Fargo has been serving the needs of automotive dealers and helping them achieve their personal and business goals since 1945, with world class service and cutting-edge financial solutions.
We offer auto dealers a complete suite of products and services to support a variety of business objectives including:
Purchasing inventory for new, used, demo, and service loaner vehicles
Working capital
Commercial real estate financing
Financing for acquisitions 
Succession planning
Managing payments and receipts 
Risk mitigation
Gain the Wells Fargo Advantage
Wells Fargo has the proven industry experience and dedicated, personal attention to create unique financing structures to support dealers through business cycles, innovation, and evolving needs. By working with us, you may benefit from:
National Accounts team with the expertise to support complex capital structures
Regional sales team to serve the needs of local dealerships
Retail financing services to help increase dealership sales, finance income, and help accelerate inventory turn
Online floorplan account management tool enables dealers to efficiently manage inventory
Treasury products to help improve operational efficiencies and help reduce fraud
Floorplan financing
Floorplan financing enables efficient, uninterrupted flow of inventory through the distribution channel and can provide the following potential benefits:
Increased inventory availability at point of sale helping to yield sales growth
Improved cash flow and liquidity resulting from extended repayment terms
Adequate credit to accommodate day-to-day operations and longer-term objectives through right-sized credit lines
Optimized allocation of capital evolving from reduced working capital requirements
Rate
Spread over 1-month SOFR
Terms
New vehicles: Full balance due at the end of 18 months. 10% curtailment after 12 months and 15 months
Used Vehicles: Full balance due at the end of 6 months; 10% curtailment after 90 days
Advance
New Vehicles: 100% of manufacturer's invoice
Used Vehicles: 100% of auction value. Defined as current model year plus 7 previous model years with no more than 150,000 miles
Payoff requirements
Dealer to payoff any sold retail unit within 2 business days from the time the unit is funded or 10 business days from the date of sale, whichever is less
Equity account
Investment account allowing interest earned on investment to offset interest due on wholesale inventory
Direct flooring process
Wells Fargo has multiple agreements in place to floor directly with leading manufacturers
Treasury Management solutions
Treasury management solutions can help dealers manage cash flow and liquidity, monitor accounts for fraud, analyze and report on balances and transactions, and establish limits and controls for accounts, transactions, and users. Our experienced team of professionals provide insights and solutions to help make treasury a competitive advantage.
Maximize dealership banking efficiencies
Faster payments
Disbursements with Zelle® , Same Day ACH, real-time RTP® payments
Buy vehicles and other big-ticket items, or issue refunds for things like escrowed funds and returned parts - all from a dealership or driveway
Commercial card
One card platform for procurement and accounts payable disbursements
Help maximize efficiency and control, improve working capital, and take advantage of revenue share
Depository solutions
Desktop Deposit®, SafeVantage® smart safe, cash vault
Reduce the time spent away from your dealership by using remote deposit for checks and a smart safe or cash vault services for cash deposits
Merchant services
Wells Fargo Payment Gateway® , Telecheck verification
Accept credit cards, debits cards, and ACH through terminals or online, get as-soon-as next day funding , and identify potentially bad checks
Fraud prevention
Positive pay, Payment Authorization, ACH Fraud Filter, and Account Validation services
Prevent unauthorized checks and ACH on your account and validate account information to identify high-risk transactions and increase approval rates
Economic and industry insights

Auto sales & the rise of the civilian fleet
The slow healing of supply chains and the tempering of demand are on track to restore equilibrium and the proof will be in falling prices.

Fraud schemes
Learn about impostor fraud, account takeovers, and data breaches, and how you can protect your company.

Industry trends
Cloud security, insider threat, cyberattacks, and more.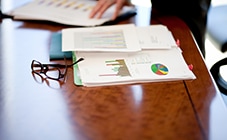 Economic outlooks
Read our commentary and insights on U.S. and international financial markets.