Individual Retirement Accounts (IRAs) were created to give people a tax-advantaged way to save for retirement. The biggest advantage is not having to pay taxes on annual investment earnings (gains, interest, or dividends) while your savings are in the account. The earlier you start to save in a tax-deferred IRA, the more time you have for those savings to potentially grow through the power of tax-deferred compounding — assuming you reinvest any earnings into the account.
Take control by saving
One way to make the most of your retirement savings is by investing in a tax-deferred account such as an IRA or 401(k) plan. The following hypothetical example shows how the power of tax-deferred growth can boost your retirement savings.
How tax-deferred savings and investments stack up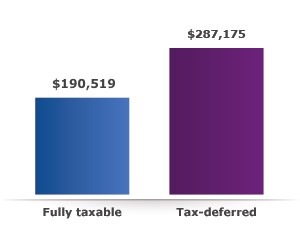 Over a savings period of 30 years, an initial $50,000 deposit could grow to $287,175 (assuming a compound annual growth rate of 6% and a 24% tax bracket).
This hypothetical example is provided for informational purposes only. It is not intended to represent any specific investment, nor is it indicative of future results. The assumed rate of return in the hypothetical example has been provided solely for illustrative purposes and is not guaranteed.  Any charges, such as investment sales charges or commissions or annual account fees, within the tax-deferred account are not reflected in the above illustration. If the potential expenses of the hypothetical investment had been reflected, the ending value of the tax-deferred investment could be lower.  Lower tax rates on capital gains and dividends could make the investment return for the taxable investment more favorable, thereby reducing the difference in performance between the accounts shown.  Investing involves risk including the possible loss of principal. Traditional IRA distributions are taxed as ordinary income and may be subject to a 10% Federal tax penalty if distributions are taken prior to age 59 1/2. Changes in tax rates and tax treatment of investment earnings may impact the comparative results. You should consider your personal investment horizon and income tax bracket, both current and anticipated when making an investment decision as these may further impact the results of the comparison. Wells Fargo Advisors does not provide tax or legal advice. Please see your tax and legal advisors for guidance.
You should consider saving for retirement in an IRA if:
Your employer doesn't offer a retirement plan, such as a 401(k), 403(b), or 457(b) plan. 
You have a non-working spouse and would like to contribute to an IRA.
You're already saving in your 401(k) at work but would also like to supplement your retirement savings or get potentially tax-free growth in a Roth IRA.
You're changing jobs or retiring and want to know the distribution options for your former employer's retirement plan.
You have maxed out your 401(k) and would like to save an additional amount in an IRA.
Need more information? Review our IRA Frequently Asked Questions.

What are the two types of IRAs?
Traditional IRAs offer the potential for tax-deferred* growth and, if you qualify, a tax deduction. Roth IRAs offer the potential for tax-free growth* on your savings but no tax deduction. For more information about the differences between the two types of IRAs, including details about eligibility, visit the Traditional vs. Roth section of our IRA Center. Also, find out more about converting to a Roth IRA.

Wells Fargo has the right IRA for you
Wells Fargo is one of America's largest and most respected retirement services providers. Wells Fargo offers the strategies and guidance to see you to and through retirement. We begin with manageable steps that carefully balance your long- and short-term needs, working with you to design a plan to match your vision for tomorrow.
We have a variety of ways you can work with us. Get started by choosing an account.
We're here for small business
Wells Fargo understands the unique investment and retirement challenges of business owners and the self-employed. Whether you need IRA information, a retirement plan for you and your employees, or a business valuation, you can count on us to address your financial needs. We have retirement planning ideas designed specifically for you and your business.