Discover Business Essentials
Transcript: Business Essentials
Voiceover: Ask a business owner, and they'll tell you what they need right now, is a better way to get more done. Without adding more overhead.

Introducing Business Essentials from Wells Fargo, the straightforward solution that can help simplify your banking with a core package of treasury services. The essential ones. The ones you need to run your business more efficiently, more productively.

Services designed to help you that let you easily send and receive payments. Help protect your business and your transactions from fraud. And let you monitor your cash flow and balances. So, you can keep your corporate cash management well in sight.

So how do you put Business Essentials to work for your company?  Easy.
With one standard, starter price, more than a dozen treasury services are in reach.  From day one.

Use what you need now.  Activate others as your needs expand. With no waiting.  Because the setup for all of your services has already been done.

Talk to us about Business Essentials. The smart, straightforward way to keep your business moving forward

End Card: Wells Fargo (LOGO)
On-screen text: © 2020 Wells Fargo Bank, N.A. All rights reserved. Member FDIC. TM-6072.
A smart way to get more done
Complete set of services installed from the start. Activate the ones you need as your business grows.
Payments

ACH
Transfer money electronically between banks through the Automated Clearing House network.
Wire
Secure, electronic transfer of funds between two entities through a network of banks or transfer agencies around the world. Includes foreign exchange.
Checks
Traditional paper-based payments.
Desktop Deposit
Electronically deposit checks anytime, anywhere, using a desktop scanner.
Fraud

ACH fraud filter
Fraud protection service that helps protect you against the encashment of lost, stolen, or counterfeit checks.
Positive pay
A check fraud protection service that helps protect you against the encashment of lost, stolen, or counterfeit checks.
Payment authorization
Helps prevent fraudulent activity on unauthorized checks and/or over the counter debits.
Payee validation
An extension of positive pay that identifies discrepancies between payee information on check and payee information your customer provided for that check.
Visibility

Basic banking
Efficient way to manage bank accounts via desktop, tablet, or mobile device with our online bank portal.
Transaction and image search
Conveniently view records of any checks, deposits, deposited items, stop payments, and originated ACH items posted to your accounts — all online.
Alerts
Customize criteria for when and how you want specified information sent to your email or text/SMS.
Statements & notices
Comprehensive account information sent online via our Commercial Electronic Office® (CEO®) portal — the only interactive statement offered by a major financial institution.
Administration
Set up and maintain employee access directly, saving them time and granting more control and flexibility.
Express Balance Information Reporting
See a snapshot of previous day account balance information along with current available balance. Provides balance data for each account, total funds available, and summary total of debits/credits posted to each account.
ACH NOC Returns Report
View summary of returns, dishonors, notifications of change, redeposits, MICR/photo, and admin adjustments by activity type.
Banking that helps you grow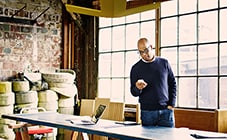 We aim to keep it simple
One standard starter price
Quick enrollment
E-signature makes it convenient
No branch visit needed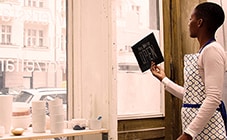 Always here for you
Reassuring support of Wells Fargo
Seamless implementation
One point of contact
Contact us to learn more from a Treasury Management consultant.