By John Hunter, Head of Global Treasury Management Payments and Transaction Services Wells Fargo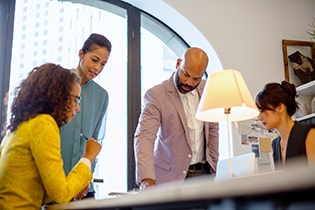 The era of "real time" has arrived. Speed has changed our lives dramatically compared to just a few years ago, impacting everything from sending and receiving funds in an instant, to streaming live content, to checking the status of your order with a simple click. "Now" is the new normal; waiting is no longer an option. 
Yet in many finance departments it's still business as usual. Payments, reporting, and liquidity management all rely on the same day-old (or older) data, the same batch processing and manual operations that were "leading edge" more than a decade ago. 
Setting a new standard for cash management 
If your treasury seems trapped in the past, it's definitely time to move forward. Instant access to data can revolutionize your company's financial operations, as well as your customer, supplier, and employee experiences. Considering your options now, as well as involving your bank in planning will ensure you keep pace with the latest developments as they become available. 
Innovations in technology make real-time enhancements possible, leveling the playing field for smaller organizations. In the past, only large and sophisticated companies could invest in custom ERP upgrades and system-to-system connectivity. Now, real-time tools like APIs and webhooks, greater adoption of industry standards, and the leadership of key banks are all helping to simplify and democratize real-time access. 
New solutions will be scalable for small and medium-sized businesses as well as global enterprises. The result is a new standard for real-time cash management. 
7 ways to accelerate progress 
Consider opportunities like these for treasury management to put real-time connectivity into practical application. 
Imagine making liquidity decisions and mobilizing your cash based on up-to-the-minute balances pulled from accounts at multiple banks.
Imagine simplifying your transactions, so each payment uses the method that's fastest, safest, and most cost-effective. 
Imagine making customer service a great experience with automatic notifications and real-time transaction status, all from within your product or mobile app. 
There's even more potential on the horizon as banks and fintechs continue innovating. We're excited about these seven scenarios:
1. Route your payments efficiently
The options for sending and receiving transactions continue to grow, adding complexity and at times, cost. When you have a handful of critical payments, it's feasible to research the most efficient method (such as wires, Same Day ACH, RTP, or the new FedNow network). But scaling those decisions for larger payment volumes requires substantial information, processing power, and automation. 
Enter intelligent routing. With a solution like this, you and your bank will create business rules specific to your priorities, whether you need speed of settlement, lowest processing cost, international reach, or other capabilities. Then, your bank's payment platform will deploy the best transaction method. The delivery industry already employs this type of tool with great success, letting smart technology recommend the best carrier and delivery timeframe for shipments – so why not do the same with your payments. 
2. Detect fraud attempts instantly
What if instant access to data could better protect your funds? Your bank, your fraud protection services, and the payment networks you use already collect and monitor thousands of datapoints in real-time. Imagine accessing this sophisticated intelligence to spot potential fraud and misuse before a payment occurs.
Real-time connectivity can power this type of solution in the near future. For example, if you've never before made a payment in Asia, or if your standard transaction is $5,000 not $50,000, a real-time fraud protection service could detect anomalies and notify your team before you issue the payment. With more irrevocable transactions and real-time settlement, it will be an important safeguard to put on your treasury "must have" list. 
3. Reduce your exceptions
Who hasn't been frustrated by the legwork and delays of payment exceptions? Everything from transposed numbers to closed accounts to missing data can strand a payment midstream. Instant connectivity has the potential to alleviate this situation. 
In this scenario, instead of sending a batch file for next-day transmission (or printing and mailing checks), imagine technology that can evaluate immediately if payments are complete and accounts are valid—even repairing minor discrepancies automatically. Real-time communications between payment originators, your bank, and other payment endpoints bring this solution to life.
4. Pay non-traditional endpoints
Digital wallets bring speed and convenience to consumers, who are adopting them in record numbers. Yet as more companies add branded wallets to their product or service, they're realizing the right back-office platforms are critical to success. 
Rather than adding another vendor to manage, imagine working directly through your bank to establish the real-time connectivity that powers a custom digital wallet experience. One trusted resource could help you design an intuitive workflow, accept new payment methods, and at the same time, enable the necessary back-office functions such as real-time validation, notifications, and reconciliation.
5. Consolidate your reporting
When your operations span multiple divisions, countries, currencies, and banks, activities like forecasting and daily cash positioning become arduous. What if, instead of logging into various bank portals, downloading information, and updating complicated spreadsheets, you could find the data you need in a single location? 
Consolidated multi-bank real-time reporting is becoming a reality now available, thanks to API connectivity between systems, a push for open banking standards, and comprehensive dashboards. This innovation arms treasury management with sophisticated and up-to-the-minute intelligence across your cash footprint. Staff spend their valuable time evaluating options rather than searching for details. 
6. Use your money wisely
In rising rate environments, how you manage your liquidity takes on extra significance. But, identifying excess working capital and making smart investment decisions means fast access to data. It's especially critical for organizations that do business internationally, with cash spread out in accounts worldwide. 
APIs and real-time tools can vastly improve your visibility and accelerate your cash flow velocity. Working capital solutions like notional pooling, for example, let you automate and mobilize your excess cash more easily than ever; you can centralize cash management without actually comingling funds or making intercompany loans. Instant access to balances and pending transactions can create other advantages. With real-time solutions, you can make confident decisions in where to spend, where to invest, and how to best use your funds to achieve your business goals. 
7. Empower customer service
Who hasn't wondered about the status of an order or when an important payment will arrive? It's not just a question that finance struggles to answer—employees want to track expense reimbursements; customers and suppliers need accurate data to manage their own balance sheets and update their stakeholders.
Real-time access to banking data will be able to supercharge your customer service. Instead of lengthy phone calls or strings of emails, imagine completing payment-related activities directly from your customer-facing mobile app, website, or product. With embedded commerce, you can design the workflow; your bank can supply the data to support your full order-to-cash lifecycle.
Make instant data access a priority for treasury
Instant access to financial data can accelerate operations, improve decision-making, and increase productivity. It brings benefits that extend far beyond treasury management, to senior leadership, valued customers, and trading partners. There's no better time than now to talk with your bank about adding real-time capabilities.