By Patty Juarez, EVP & Head of Diverse Segments Commercial Banking, Wells Fargo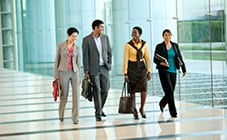 Ask most business owners about their company and you'll see faces filled with pride and passion. Launching and leading a business is typically the culmination of years of hard work; for many, a lifelong dream.
Now, consider the entrepreneurial journey for minority- and women-led businesses. They encounter far more detours on their road to success than their peers. Even in the 21st century, they can face a rigid system more interested in homogenizing diversity than celebrating it.
Common obstacles for diverse business owners include: 
Less robust professional networks 
Lack of access to capital 
Less familiarity with financing tools and options
The result is slower growth and unnecessary hurdles to overcome. I've witnessed it firsthand, watching my father, a Hispanic business owner, struggle to navigate traditional avenues and obtain appropriate financing. It's one of the reasons I chose banking for my career and work today as a vocal advocate for others. 
Taking a more inclusive approach to lending
Slowly, the landscape is changing to level the playing field for business owners of all races, ethnicities, genders, and backgrounds. One way the financial services industry is supporting this critical effort is through active diversity initiatives. At Wells Fargo, I lead a team of committed professionals as part of our Diverse Segments Commercial Banking team.
Taking a more inclusive approach to lending makes sense and is good business. Women and minorities represent some of the fastest growing market segments. 
Minorities and women own nearly 2 million businesses with employees.
Women of color are starting new companies at nearly five times the rate of business overall.
While these numbers are impressive, progress for underserved populations still lags behind other segments. For example, while approximately 40 percent of the U.S. population identify as minorities, they represent just 20 percent of business owners.
These minority-owned businesses are less likely to have their financing needs met. In a recent economic survey, even with good credit scores, just 13 percent of Black-owned businesses that applied for traditional financing received all the funds they sought, compared to 20 percent of Hispanic-owned, 31-percent of Asian-owned and 40 percent of white-owned firms.
This COVID-19 pandemic has also exacerbated inequalities in the financial system, making a disproportionate impact on this same demographic. Between February and April 2020, the number of Black business owners dropped by 41 percent; Latinx business owners declined by 32 percent.
Making a conscious commitment to underserved markets
What does a conscious commitment to diversity look like? Business owners should expect efforts like these from their financial institution: 
A focus on diversity. A true commitment to change has active participation and senior leadership support at its core. Look for bankers who share an affinity with their clients, embody diversity, value different cultures, and speak multiple languages. This commitment should extend beyond the walls of the bank, with staff who embed themselves in the community, attend or sponsor local events, and support women- and minority-owned establishments. Learning and appreciating the cultural heritage of others is a cornerstone of diversity. 
Greater access to capital. All business owners recognize the importance of adequate funding to support growth and success. Yet from venture capitalists to established banks, not enough organizations seek to fund minority- and women-owned businesses. Overcoming these issues means banks and their counterparts must adopt a broader view of the market. Look for financial institutions eager to pursue projects with non-traditional companies and that offer lines of credit and other financial products suitable for all types of entrepreneurs and business owners. 
Emphasis on education. Studies show leaders of minority-owned businesses have less familiarity with financial products and services than their peers do. Language and cultural barriers can further exacerbate the knowledge gap by making it uncomfortable to ask questions or access information. A bank focused on serving underserved business owners makes it easy to get information and learn about the options available to fund and grow their businesses.
New ideas and connections. Beyond financing, every business owner needs a team of trusted advisors who can share ideas and help open doors. Banks committed to diversity put this into practice by seeing each entrepreneur as a whole person—not just a loan or a transaction on the balance sheet. They develop ongoing relationships and take time to connect interested entrepreneurs with professional resources that can help them thrive.
How to find the right banking resource
If you're a business leader or entrepreneur from a population that's traditionally underserved, do your due diligence to find the right banking resource for your needs. 
Consider: 
Does the bank have a measurable track record among similar businesses? 
What is the bank's visibility and commitment within your community? 
Do you have a banker you know and trust? 
Is your banker eager to listen and gain a true understanding of your business vision? 
Are lending and financial products available that meet your needs—today and in the future? 
Is your banker acting as an advisor and sharing new ideas, helping grow your professional network, or tap into new experiences? 
Asking in-depth questions like these helps business owners make smart decisions and ultimately, find the right financial partner. 
While systematic change doesn't happen overnight, positive progress is taking place. There's a collective raising of awareness and new players entering the financial services industry. More established banks like Wells Fargo are mobilizing and committing resources to widen financial access for diverse business owners.