By Courtney Buerger Schmidt, Brad Rubin, and Michael Swanson, Ph.D.
As you celebrate Thanksgiving with family and friends this year, you have a cornucopia of things to consider: who will host, deciding on the main course, carving out time to share thankfulness and gratitude, saving money on the festivities – and the list goes on. Instead of passing warm dishes around a dining room table with the aroma of pumpkin wafting in the air, you may have thought about sharing a meal together at a nice restaurant and removing the stress of cooking and cleaning.
The value of eating out
If food costs are making you gasp at the grocery store, budgeting for that Thanksgiving meal may have you wondering if it wouldn't be less expensive and more convenient to eat out. Dining out can be costly, but it may be a better value this year than one might expect. Rising commodity costs impact grocery stores more directly than restaurants. The price of a meal at a restaurant includes factors such as overhead and labor, but commodity ingredients are a smaller percentage of a restaurant's total costs. However, restaurant owners have needed to increase menu prices more often and at a higher percentage this year to absorb those commodity costs. 
Comparing the Consumer Price Index (CPI) data from November 2021, the cost of food away from home has increased at a slower rate (5.79%) than food at home from your standard grocery trip (9.81%). That narrowing of the gap means some Thanksgiving dishes at your favorite restaurant are closer in price to your food at home which could save you time and energy. In other words, you could spend about the same on a dish at a restaurant as you would preparing it at home. 
Pressure on products
Let's carve out the details. Weather and other forces impacted food costs this year. A cool spring in Idaho and Washington delayed potato and onion crops. In California, hotter temperatures and drought shrunk the yield of celery, carrot, and onion crops. Also, cranberry sauce, a staple of the holiday meal, will cost more on grocery store shelves due to cranberry producers that faced rising input costs. The typical Thanksgiving basket includes other items, but all-in-all, the rising costs and average supply will mean some Americans may look for alternatives to the traditional Thanksgiving meal. 
Digging into the food away from home CPI data, you'll discover the real value is in limited-service restaurants (LSRs) – establishments where you pay before you eat. There's not one clear reason why LSRs have been slower to raise prices, but it's likely a mixture of those customers being more price sensitive, a highly competitive LSR landscape, and this sector's earlier adoption of price increases in 2020 and 2021.  However, many people will prefer the full-service restaurant experience – where you pay after you eat – for their special Thanksgiving meal which remains a relative bargain. 
If you're wanting to forgo the hassle of cooking and washing dishes or asking guests to bring a side dish with the bonus of supporting your favorite restaurant, this could be your year for a holiday spread away from home. 
Cost savings for the Thanksgiving traditionalist 
Planning on a substantially large get-together with family and friends?  Then cooking at home might be the best bet for your wallet. However, expect to pay more this year than last November. For a Thanksgiving basket of staples ranging from poultry to fruits and vegetables to spices, you'll see the cost outpacing the total food at home and food away from home categories. Key items driving the higher costs in the Thanksgiving basket include eggs (+32.5%), butter (+25.8%), and flour (+17.1%). Fruits and vegetables have the lowest cost increase in the Thanksgiving basket, only up 7.3%.
Why does the Thanksgiving basket cost more?
Turkey time? The star of the Thanksgiving meal, and one of the biggest expense items, is forecasted to be 23% higher in price than last year in the fourth quarter. Turkey supplies will also be more limited this year due to continuing impacts of Highly Pathogenic Avian Influenza. Turkey prices jumped after the bird flu wiped out livestock earlier this year. While inventory has rebounded, the cost per pound will be higher. You'll still find turkey at the grocery store, but you may want to shop early for the best selection of brands and sizes. While turkey will be more expensive this year, it's still a great value for feeding many guests compared to other protein options. Plus, who doesn't love leftover turkey?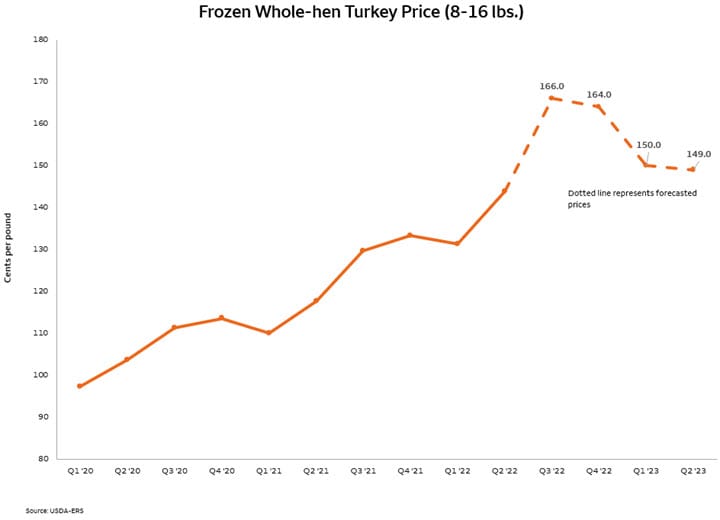 Craving cranberries? Starting with cranberry sauce, adverse weather and rising input costs are driving up prices. Cranberries are grown in several U.S. locations, and each had its own set of challenges this year. On the East Coast, dry conditions forced farmers to use more irrigation. Increased costs mean a slight uptick in prices. In the Northwest, the cold spring delayed the cranberry crop and then rapid heat sped up the ripening process. For this reason, the size and quality of the berries in the Northwest may not meet fresh product standards. This means less fruit for the fresh market and more fruit for processors. Since most fresh berries are in high demand around Thanksgiving, prices will likely be higher than last year. If you make cranberry sauce from scratch, you may pay more for the coveted berry at the store. For a cheaper option, canned cranberries may be the way to go.
Poppin' potato prices? Let's look at another Thanksgiving staple, potatoes. This year's crop appears to be a bit smaller than last year. In the Northwest, the cool spring delayed the potato crop. As the cool weather subsided, the Northwest experienced extreme heat. This kind of environment stunts potato plant growth. Potatoes in the ground lose size and yield. This will be the second year in a row that potatoes have experienced a short crop. With input costs rising, yield down, and production affected, you can bet consumers will start to see an increase in the price of potatoes. While plenty of mashed potatoes with gravy will be around at Thanksgiving, consumers can expect to pay more.
Sweet potatoes have no relation to white potatoes, and they require different growing conditions. Sweet potatoes are grown in North Carolina and the Southeast. While input costs are rising, the surplus of sweet potato may be a better option for the budget-friendly consumer this year. For all those sweet potato pie lovers out there, this is truly your year to shine. 
Tabling the discussion
Whether you decide to stick with tradition and eat at home or gather for a meal at a restaurant, the main purpose of this season remains the same – basking in gratitude, spending quality time with friends and family, and enjoying your favorite holiday staples. It's holidays like Thanksgiving that bring us together, remind us to reflect on the good things in life, and to have hope for the future. As consumer confidence rises, prices will adjust, and that is something to be grateful for.
Happy Thanksgiving from us to you!
Still need help deciding what to do? Here's what you need to know:
The cost of food away from home has increased at a slower rate (5.79%) than food at home from your standard grocery trip (9.81%).
Turkey is forecasted to be 23% more expensive this year. If eating at home, buy your turkey early. 
Consider a restaurant if you want to skip the prep and cleanup. 
The surplus crop of sweet potatoes this year makes them the best option for all your potato dishes. 
Get selective about fruits and veggies – buy your favorites fresh and choose frozen or canned for others (i.e., cranberries).

Courtney Buerger Schmidt is a Sector Manager within Wells Fargo's Agri-Food Institute focused on the protein, cotton, and hay sectors. Courtney originally joined Wells Fargo in 2014 as a relationship manager within The Private Bank Wealth Management group where she spent two years prior to assuming her current role. Before Wells Fargo, Courtney spent six years as a commodity broker and research analyst with Frontier Risk Management developing hedge and risk management strategies for Agribusiness clients, and also served as assistant director of the research division that focused on livestock, grain, and oilseed.
Courtney holds a Bachelor of Science degree in Agricultural Economics with an emphasis in finance and real estate from Texas A&M University. Courtney was recently selected for Texas Agriculture Lifetime Leadership (TALL) Cohort XVIII 2022-2024. She is also a member of the Texas A&M College of Agriculture Development Council .


Brad Rubin is the Sector Manager for Specialty Crops within Wells Fargo's Agri-Food Institute, and focuses on fruits and vegetables. Brad joined Wells Fargo in January 2018, having formerly worked as Chief Marketing Officer for iD Tech. Prior, he was Vice President of Operations for Kibo Commerce, an enterprise e-commerce provider. Before Kibo Commerce, Brad served as the Director of Global Operations at TransUnion and managed customer operations globally for the credit bureau's direct-to-consumer business. 
Brad holds a Bachelor of Science degree in Industrial Technology from California Polytechnic State University, San Luis Obispo.


Michael Swanson, Ph.D. is Wells Fargo's Chief Agricultural Economist. Based in Minneapolis, his responsibilities include analyzing the impact of energy on agriculture and strategic analysis for key agricultural commodities and livestock sectors. His focus includes the systems analysis of consumer food demand and its linkage to agribusiness. Additionally, he helps develop credit and risk strategies for Wells Fargo's customers, and performs macroeconomic and international analysis on agricultural production and agribusiness.
Michael joined Wells Fargo in 2000 as a senior economist. Prior, he worked for Land O' Lakes and supervised a portion of the supply chain for dairy products, including scheduling the production, warehousing, and distribution of more than 400 million pounds of cheese annually, and also supervised sales forecasting. Before Land O'Lakes, Michael worked for Cargill's Colombian subsidiary, Cargill Cafetera de Manizales S.A., with responsibility for grain imports and value-added sales to feed producers and flour millers. Michael started his career as a transportation analyst with Burlington Northern Railway.
Michael received undergraduate degrees in economics and business administration from the University of St. Thomas, and both his master's and doctorate degrees in agricultural and applied economics from the University of Minnesota.