By Karol Aure-Flynn, David Branch, Kevin Bergquist, Wells Fargo Food and Agribusiness Industry Advisors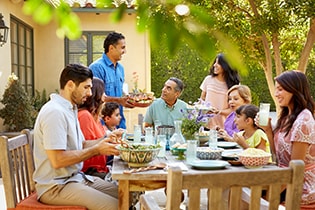 Hispanic flavors are flourishing within the U.S. food landscape. Even with dynamic shifts in the processing, manufacturing, distribution, wholesaling, and retailing of food, consumers' love affair with traditional and Hispanic-inspired dishes continues to evolve. And, it appears this demand is built to withstand food price inflation for a number of reasons.
To begin with, Hispanics comprise a large, and growing, portion of the U.S. population, and this creates an initial baseline for affinity for Hispanic flavors and dishes. Per U.S. Census data, "Hispanic" refers to people whose origin is Mexican, Puerto Rican, Cuban, people from Spanish-speaking Central or South American countries, or other Hispanic/Latino. The 2020 U.S. census is still being tabulated, however the last census showed an increase in the U.S. Hispanic population from 16.3% in 2010 to 18.1% in 2017, with a breakdown of 60% Mexican, 10% Puerto Rican, 4% Cuban, and the remaining 25% from other Hispanic or Latino geographies. U.S. Census projections for 2030 and 2060 reflect expected growth of 21.1% and 27.5%, respectively. So, continued growth in the Hispanic population bodes well for growth in Hispanic-inspired ingredients and foods.
Second, there is a continually evolving variety of Hispanic flavors in play, and these tend to blend native heritage with regional flavors. Foods served by Hispanics on a daily basis, and for celebratory occasions, are heavily steeped in family traditions, and can vary widely by country of origin, supplemented by regional and local influence. One can find an array of authentic ingredients, manufactured products, and prepared foods across the U.S. – traditional Mexican breads, tortillas, sauces, soups and stews, as well as Latin-inspired rice, vegetables, meat and seafood dishes. My grandmother was raised on both sides of the Mexican border in Los Mochis, Sinaloa and Nogales, Arizona. Ultimately, the foods that she served, and that subsequent generations have perpetuated, reflect her personal experiences. Though, cooking styles and daily fare have evolved with our family generations, I still miss the fanfare of my Grandmother's homemade tamales each Christmas holiday, along with the debate about whether raisins belong in tamales.
Third, the spectrum of flavors and options in the Hispanic food space speaks directly to shifting tastes across non-Hispanic ethnicities, especially among younger consumers. Research released by Mintel shows that 90% of consumers aged 25-34 indicated they had prepared ethnic food at home in the past month compared to 68% of those aged 65 or older.  Younger consumers from across demographic groups are seeking out, and driving demand for, diverse flavors, and make up 98.3% of industry sales categorized under ethnic flavor profiles. With the millennial generation now being the largest adult population and with Generation Z spending even more than millennials, the fact that younger consumers have affinity for diverse flavors creates great optimism for Hispanic flavors and brands.  
Last, there is a host of consumer research available that includes data points such as products purchased and shopping habits. Growers, processors, manufacturers, retailers, and restaurants pay attention to this data, and are adjusting strategies based on findings. According to The Food Institute and the U.S. Pork Board, 79% of Hispanic consumers shop with other family members, seeking stores that offer a family-friendly experience. In addition, 49% of Hispanic shoppers don't choose mainstream retailers as their go-to store, and instead opt for specialty stores, ethnic markets, and bodegas. Food providers are seeking ways to meet Hispanic consumers where they are – mentally and physically. So, with the breadth of Hispanic traditions, geographies, and the regional diversity, this research supports hyper-local strategies for food providers in order to meet the preferences of Hispanic households.  

U.S. food growers, processors, and manufacturers must be doing something right, since retail sales of Hispanic foods have been robust. A colleague of mine aptly noted that "Ethnic food choices have been the spice of pandemic life." Nielsen retail data for the some of the most successful Hispanic brands, measured across food categories indicate upwards of 10-25% year-over-year growth in quarterly sales by unit volume for Q2‒Q4 2020 during the pandemic shut down, compared to 3‒7% quarter-over-quarter gains in the few years pre-pandemic shutdown.  More recent retail sales are a bit more difficult to interpret. (Restaurant and foodservice closures, along with pantry stocking and home cooking, will forever be the asterisk on food data and demand metrics.) Negative growth numbers in Q1‒Q3 2021 had a normalizing effect versus pantry-stocking-and-foodservice-closure-fueled sales in the second half of 2020. However, these Hispanic brands are still posting higher year-over-year growth than they were in 2019.
Are Hispanic foods inflation proof?
Despite the retail performance of Hispanic brands, it may still be too early to determine how price inflation will impact demand. Consumers everywhere are feeling the impact of price inflation since it's occurring across nearly every consumer-budgeted item. Steep increases in food prices began in Q4 2021, and year-over-year food price inflation for all food reached nearly 8% in late February 2022. This data is split by both "food away from home" and "food at home." Interestingly, changes in the consumer price index for "food at home" increased 8.6%, while "food away from home" posted 6.8% year-over-year gains as of February 2022. In the two decades that specific data has been available, food-at-home price inflation has rarely outpaced food-away-from-home. 
It's important to recognize specific grocery departments are exhibiting different levels of inflation. For this past year, meats, poultry, and fish led food inflation with over 13% year-over-year gains. Fats and oils increased by more than 11%, dairy 5.2%, and fresh vegetables increased by 4.3%. As consumer budgets tighten, it goes without saying that many consumers will gravitate to items that are lower-priced or good substitutes for more expensive choices. So the question is whether inflation will drive consumers away from some Hispanic-influenced grocery choices, or whether the appetite for these flavors can be satisfied even with strained household budgets? 
Conclusion
My view is that tailwinds driving demand growth for Hispanic flavors will withstand the challenges of inflation. Many of the basic ingredients used in Hispanic meals such as tortillas, breads, rice, beans, vegetables, and dairy products, along with value-driven cuts of beef, pork, and chicken are already well positioned to compete against higher-priced consumer options. And, amidst price inflation and the long tail of returning to normalcy, consumers are seeking food choices to shore up and boost family life, whether eating at home or eating out. So, lower price points and strong demand growth for Hispanic ingredients, coupled with growing curiosity and celebration of diverse cuisine, strongly suggest that traditional and evolving Hispanic flavors will continue to thrive.