By Michael Swanson, Ph.D., Chief Agricultural Economist, Wells Fargo Agri-Food Institute
Super Bowl Food Report explains inflation dynamics and tips for keeping costs low
Blitzed by last year's food inflation, football fans are ready for relief heading into the Super Bowl. Although it won't be cheap to throw a party, with overall food inflation up 11.8% for at home food and 8.3% for food away from home, there are a few bright spots to celebrate. Several fan favorites are seeing price declines from 2022, which will give the quarterback in you option plays for big gains in smiles.
Bring back the wing formation 
One of our all-time fan favorites is back in the game: chicken wings. Poultry producers brought a significant increase in supply, even under the pressure of higher feed costs. Consumers and restaurant operators will find the supply of chickens at the highest level since the beginning of 2019. A year ago, the USDA weekly retail price report showed whole chicken wings at a staggering $3.38 per pound for the week of Super Bowl. The January 6 price had whole chicken wings at $2.65 per pound. That's a nice pickup from the price of a year ago. It might be old-school, but the wing formation should make an appearance in this game. Fans will eat it up, whether at home or in their favorite pub or restaurant.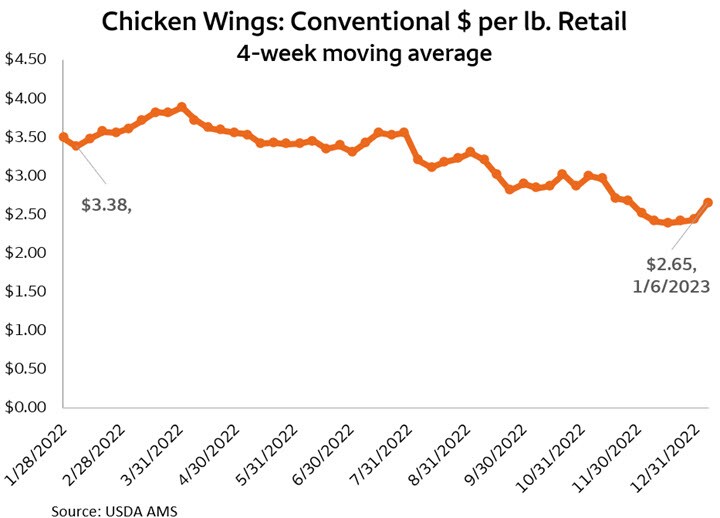 Party on, proteins 
With some of the worst supply chain issues behind us, sirloin steak prices have dropped almost a $1 per pound since last December according to the most recent retail data. Hamburgers are slightly more expensive than last January, but they are well down from their 4th of July high point. The good news is that the bacon to top the burgers is cheaper than last year at this time. Let's say a special thanks to America's farmers, ranchers, and livestock operators for getting the job done well. The grill should be red hot just like the action on the field.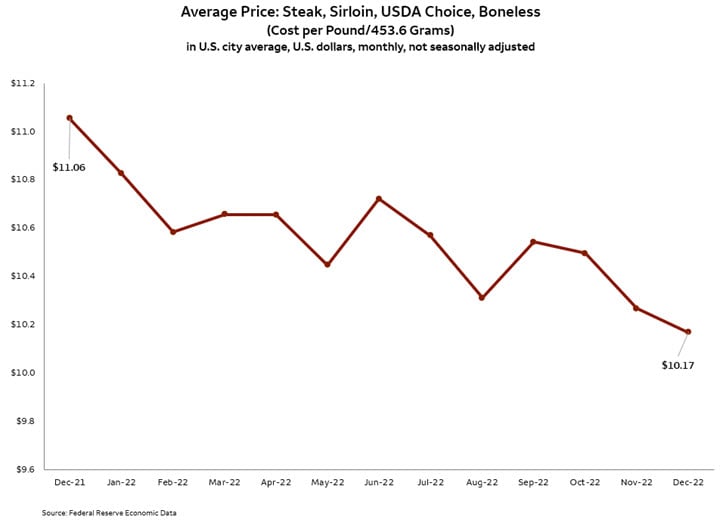 Shrimp will also be a great item to hand the ball to this year. Last year's higher prices pushed consumers to be less enthusiastic about buying shrimp. With demand down, wholesalers find themselves with full freezers and coolers. To move the ball up the field, they have started dropping prices. The retail prices have certainly felt the downside pressure, but they haven't passed all the savings along just yet. Still, shrimp will do a great job on the grill or in the ceviche.
We will, we will, guac you! (and other stadium anthems)
At last year's Super Bowl, avocados saw a last-minute setback with a Mexican supply kerfuffle blocking them at the border. This year a strong crop due to increased plantings and excellent management has improved their supply. It looks like avocados will be a better bargain than a year ago with a 20% price decline in the most recent snapshot. Whether or not we see the salsa as a touchdown celebration in the big game, it – along with guacamole – will be plentiful for dipping those chips. Value seekers will also find that hummus remains a relative value to round out the dip options.
As far as chips, fans are still favoring tortilla and potato chips as demand climbed in 2022 despite double digit price increases since 2021. National brands are holding their own against private label, with no marked difference between volume or price changes between these categories. And we're going to call out the year of the do-it-yourself veggie trays making a comeback, as consumers seek lower, per-unit prices against pre-packaged or ready-to-eat options.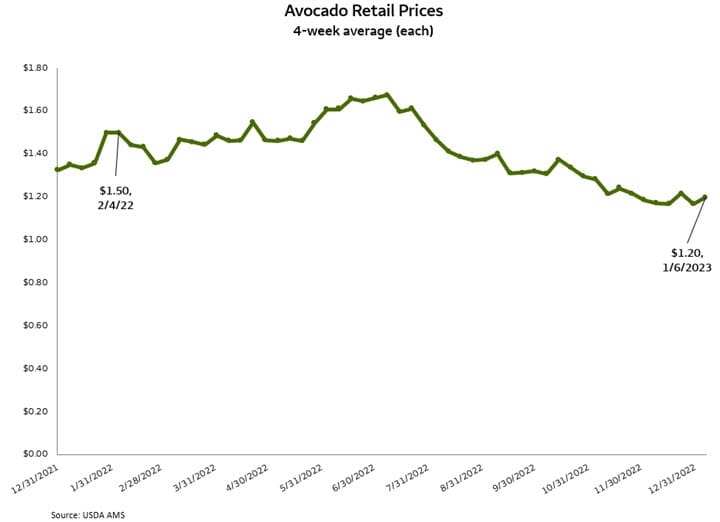 Pint of view on beverages
What about the beverages? It looks like it will be a mixed cooler so to speak. Beer has taken the biggest jump with an 11% increase from a year earlier, while wine and spirits are up only 4% and 2% respectively. The biggest price increase in the cooler actually comes from the soft drink section. A 25% increase in price represents the uptick in ingredients and shipping costs. Even so, a two-liter bottle remains affordable at $2.13. It doesn't look like the beverages will be breaking the bank.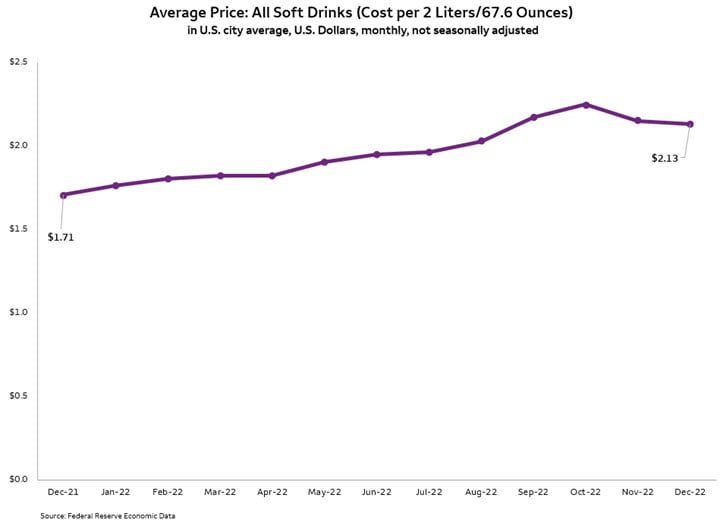 Tips for keeping costs low
There are a few bright spots for game-watchers this year. 
Wings are down 22% from January 2022
Avocados are down 20%
Sirloin, ground beef, and pork chops remain good buys
Beer has taken the biggest jump with an 8% increase from a year earlier. Wine and spirits are up only 3% and 2%, respectively.
Tips for the menu
Look for wing bargains at the grocery store and your favorite restaurant
Help yourself to hamburgers
Guac the table with avocado-focused appetizers
Consider wine or spirits over the traditional beer to cheer on your team and save
Make a batch of cocktails and/or sangria and use an array of fruits on the side for garnishes

Michael Swanson, Ph.D. is Wells Fargo's Chief Agricultural Economist. Based in Minneapolis, his responsibilities include analyzing the impact of energy on agriculture and strategic analysis for key agricultural commodities and livestock sectors. His focus includes the systems analysis of consumer food demand and its linkage to agribusiness. Additionally, he helps develop credit and risk strategies for Wells Fargo's customers, and performs macroeconomic and international analysis on agricultural production and agribusiness.
Michael joined Wells Fargo in 2000 as a senior economist. Prior, he worked for Land O' Lakes and supervised a portion of the supply chain for dairy products, including scheduling the production, warehousing, and distribution of more than 400 million pounds of cheese annually, and also supervised sales forecasting. Before Land O'Lakes, Michael worked for Cargill's Colombian subsidiary, Cargill Cafetera de Manizales S.A., with responsibility for grain imports and value-added sales to feed producers and flour millers. Michael started his career as a transportation analyst with Burlington Northern Railway.
Michael received undergraduate degrees in economics and business administration from the University of St. Thomas, and both his master's and doctorate degrees in agricultural and applied economics from the University of Minnesota.