Industry experience that helps make your business prosper
Wells Fargo Commercial Auto has been providing financial solutions to automobile dealers and helping them achieve their personal and business financial goals since 1945, with world class service and cutting-edge financial solutions
Industry leadership facts
Industry leader with 75+ years' experience
$25 billion in annual financing
$12.3 billion in lending commitments
3,000 dealerships
Over 600,000 vehicles floored in 2021
Solutions for complex financing needs
Consolidators seeking capital structure advisory, committed acquisition financing and rapidly increasing capital support
Capital markets participants including publicly listed companies, those with institutional debt, equity or ESOP investors, or syndicated credit facilities
Dealers with non-traditional business models including ecommerce, used-only, cross-border, non-auto, fleet operations
Learn more about our Commercial Auto financing solutions
Industry insights
Triumph over takeover:
Steps to help protect against account takeover fraud
Use this checklist to help reduce your risk of account takeover fraud.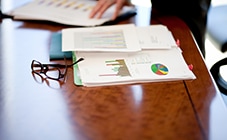 Economic outlooks
Read our commentary and insights on U.S. and international financial markets.

Fraud schemes
Learn about impostor fraud, account takeovers, and data breaches, and how you can protect your company.