Clover® is an all-in-one, point-of-sale system built to work for your business. With one system, you can accept credit, debit, and digital wallet payments from your customers (including Apple Pay®, Google Pay™, and Samsung Pay®) and get access to apps to help you manage your business. Clover allows you to take payments practically anywhere – in person, curbside, tableside, by phone, and online through a virtual terminal and e-invoicing.
The hundreds of apps available through the Clover App Market along with cloud-based design make it convenient to manage sales reporting, inventory, payroll, and more from any connected Clover device, your phone, or computer.
Clover products come with the latest security features to help protect your business and your customers, and are designed to work together or on their own, so you can tailor solutions that work for your business.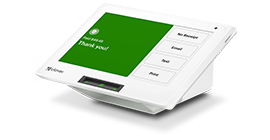 Clover Mini replaces bulky terminals with a compact device featuring a built-in receipt printer and integrated PIN pad that frees up valuable counter space while expanding payment and management capabilities. The screen easily turns from the cashier to the customer to obtain a signature or PIN.
Attractive for: Restaurant, retail, and personal service businesses seeking robust payment processing and business management capabilities in a small, compact device. 
Internet connectivity: Ethernet, Wi-Fi or mobile data/LTE connection.
Call us at 1-866-609-3378 or request a call.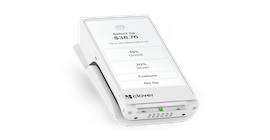 Clover Flex is a portable, hand-held device that gives you the flexibility to accept payments almost anywhere. Comes with built-in features including receipt printer, onscreen signature, camera, PIN pad, and QR scanner.
Attractive for: Restaurants, retailers, and other businesses looking for a completely portable payment solution to use curbside, at the table, at the counter, or on the go. 
Internet connectivity: Wi-Fi or mobile data/LTE connection.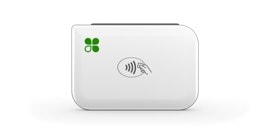 Clover Go is a pocket-sized card reader you pair with your phone or tablet to process card payments wherever you have Wi-Fi or cellular service.
Attractive for: Curbside orders, businesses on the go such as food delivery, food trucks, caterers, florists, home appliance delivery and repair and other mobile- or delivery-based businesses. 
Internet Connectivity: Uses your own Wi-Fi and/or LTE cellular connection. If you're in an area with bad service or without Wi-Fi, you can take payments offline and the transactions will be authorized once you're connected again.
Through the Clover App Market, hundreds of apps are available to help businesses manage sales, employees, and customers. Popular apps include ones for managing inventory and sales, employee scheduling and payroll, customer marketing and loyalty programs – with special apps for restaurant, retail stores and beauty salons.
Easy installation. Install apps right on the home screen of your device. If you have more than one Clover device or Clover devices in different locations, install apps once and sync them to all of your devices.
Useful reporting. Clover apps let you analyze transaction data, identify strengths and challenges, and make smarter decisions.

Payment processing that works for your business
View options for accepting payments, or answer a few questions and we'll suggest a potential match