Accept card payments on the go, curbside, during deliveries, or online

Why Clover Go?
Pocket-sized card reader for taking card payments on the go
Accept credit, debit, contactless cards plus digital wallets such as Apple Pay®
Customize your Clover Go with select apps to help with shift management, payroll and more
Help safeguard your customers' card data with encryption and tokenization
Great for merchants who:
Need a portable solution for accepting card payments in person or via digital invoice
Want the ability to pair with your own phone or tablet
Have mobile or delivery-based business such as caterers, florists, appliance delivery and repair
Send receipts via text or email
One-time device purchase price
Payment processing costs
Our straightforward small business pricing makes it easier to estimate your monthly processing costs. Custom (Interchange Plus) pricing is also available for select businesses; please call 1-866-609-3378 for more information.
Software fee:
Clover's entry level Payments software for payment processing is included in the monthly service fee
Optional software upgrade is available through Clover for an additional monthly fee per device
Transaction fee:
Your cost per transaction doesn't change based on the type of card your customer uses (Visa®, Mastercard®, American Express®, Discover®). Your rate is based on:

Business type – whether you accept most of your payments from consumers or from other businesses

Whether your customer's card is physically present or not

Total monthly dollar volume of the card transactions you process

As your sales grow and you meet the minimum for a lower rate in any given month, your rate will be automatically adjusted for the month.
No application fees, no monthly minimums, and no early termination fees.
Business to consumer (B2C) transaction fees
B2C merchants include restaurants, retailers, health practitioners, and any businesses that accept most payments from consumers. 
Your cost per transaction, based on the total dollar amount of card purchases you process in a month:
Equipment
Built-in features
Uses your own Wi-Fi and/or LTE cellular connection. If you're in an area with bad service or without Wi-Fi, you can take payments offline and the transactions will be authorized once you're connected again.
Fully PCI PTS compliant
Encrypted with TransArmor® technology when using the card reader
Device dimensions: 3.2"W x 2.2"H x 0.47"D
Biometric sign in – depending on your personal device
Software
Software Options
Clover devices come with Payments software for processing payments. You can upgrade your software to a plan with additional features and functions for an additional monthly fee. Healthcare businesses are only eligible for the Payments software. You will be asked to select a plan when you activate the device. Plans include:
Payments: Entry-level Clover software plan included as part of our monthly service fee.
Essentials: Includes the functionality of Payments, as well as basic inventory and order management. $14.95 monthly fee per Clover Go account. Additional charges per device will apply if account has Clover Flex, Clover Mini, or Clover Station products.
Clover App Market
Clover Go can be customized with select apps to help with shift management and payroll.
Payment methods
Contactless payments/tap-to-pay
Chip cards
Digital wallets (Apple Pay®, Google Pay™, Samsung Pay®)
Signature debit
Cash and check for transaction tracking
Key in card information into a web browser or send an e-invoice when a card is not present
Other point-of-sale device options that may meet your needs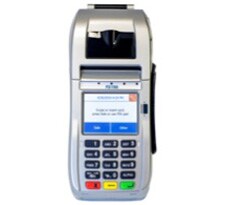 FD150 Terminal
For businesses that need a basic countertop terminal to accept card payments in person or by phone.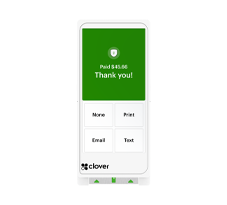 Clover Flex
For businesses that want a portable device packed with powerful tools and the ability to print receipts. Comes with a virtual terminal so you can enter card information into a web browser to take a payment, or send customers an e-invoice.