Accept card payments on the go, curbside, during deliveries, or online
Plug this pocket-sized card reader into your phone or tablet, and you'll be able to accept a card payment wherever you have Wi-Fi or cellular service. Plus, you can text or email receipts to customers. A virtual terminal is included, which allows you to enter card information into a web browser or send an e-invoice.
Pricing
Cost of device:
Monthly service fee:
Software fee:
No additional monthly software fee
Business to consumer (B2C) transaction fees
B2C merchants include restaurants, retailers, service industries, and merchants that accept most payments from consumers.
Your cost per transaction, based on the total dollar amount of card purchases you process in a month:
| Total monthly processing | Per tap, dip, swipe transaction | Per online or keyed-in transaction |
| --- | --- | --- |
| Details | Details | Details |
| $0 - $14,999.99 | 2.60% + $0.15 | 3.40% + $0.15 |
| $15,000 - $39,999.99 | 2.40% + $0.15 | 3.20% + $0.15 |
| $40,000 & up | 2.20% + $0.15 | 3.10% + $0.15 |
Equipment
Built-in features
Wi-Fi and LTE connectivity, if your personal mobile device has Wi-Fi or 4G LTE
End-to-end encrypted with Transarmor technology when using the card reader
Device dimensions: 2.5" L x 2.6" W
Biometric sign in – depending on your personal device
Barcode scanner through your device's camera
Software
Clover App Market
Clover Go can be customized with select apps to help with shift management and payroll.
Payment methods
Contactless payments/tap-to-pay
Chip cards
Swipe cards 
Digital wallets (Apple Pay®, Google Pay™, Garmin Pay™, Samsung Pay)
Signature debit
Cash and check for transaction tracking
Available accessories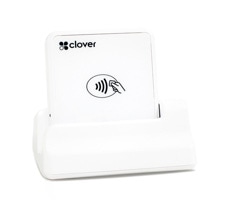 Docking stand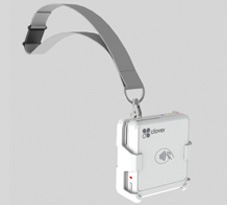 Belt clip with lanyard
Other options
Clover Flex
For businesses that want a portable device packed with powerful tools and the ability to print receipts. Comes with a virtual terminal.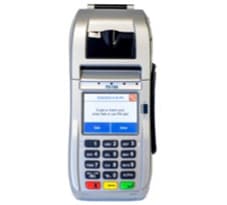 FD150 Terminal
For businesses that need a basic countertop terminal to accept card payments in person or by phone.