Clover® is an all-in-one, point-of-sale system built to work for your business. With one system, you can accept credit, debit and mobile payments from your customers (including Apple Pay®, Google Pay™, and Samsung Pay) while accessing apps to manage your business. The hundreds of apps available through the Clover App Market along with cloud-based design make it convenient to manage sales reporting, inventory, payroll, scheduling, marketing and more from any connected Clover device, your phone or computer.
All Clover products work together or on their own, so you can tailor solutions that work for your business.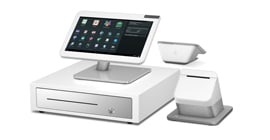 Clover Station Pro is a countertop point-of-sale solution that includes a customer-facing display with PIN entry capability, basic printer, and a cash drawer.
Attractive for: Counter service restaurants, retailers, and personal service businesses that want a customer-facing interactive display, robust payment processing, and business management capabilities.
Internet connectivity: Wi-Fi, Ethernet or up to 4G LTE wireless.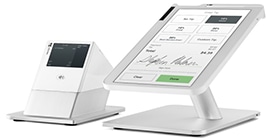 Clover Station is a countertop point-of-sale system for more advanced processing needs. It features a swiveling touch screen, integrated card reader and camera with options to add a cash drawer, kitchen printer, barcode scanner, contactless PIN pad and more.
Attractive for: Restaurants, retailers, and personal service businesses seeking robust payment processing and business management capabilities without the need to move the device from place to place.
Internet connectivity: Use Ethernet or Wi-Fi.
Clover Mini replaces bulky terminals with a compact device featuring a built-in receipt printer and integrated PIN pad that frees up valuable counter space while expanding payment and management capabilities. The screen easily turns from the cashier to the customer to obtain a signature or PIN.
Attractive for: businesses where space is a premium. Clover Mini has many of the features of the Clover Station in a small, compact device. 
Internet connectivity: Ethernet, Wi-Fi or mobile data/LTE connection.
Clover Flex is a portable, hand-held device to give you the flexibility to accept payments anywhere with built-in features including fingerprint login, onscreen signature, printer, camera, PIN pad and QR scanner.  Easily hand from cashier to customer to complete a transaction.
Attractive for: Mobile businesses, quick service restaurants, retail and other businesses looking for a completely portable payment solution to use in line for line busting, at the table, at the counter or on the go. 
Internet connectivity: Wi-Fi or mobile data/LTE connection.
Clover Go is an easy-to-use card reader that works with your phone or tablet to process card payments. It comes with an optional docking stand or belt clip with lanyard so you can take it anywhere you do business.
Attractive for: businesses on the go such as food trucks, caterers, florists, home appliance delivery and repair and other mobile or delivery based businesses. 
Internet Connectivity: Wi-Fi or mobile data/LTE connection.
Through the Clover App Market, hundreds of apps are available to help businesses manage sales, employees, and customers. Popular apps include ones for managing inventory and sales, employee scheduling and payroll, customer marketing and loyalty programs – with special apps for restaurant, retail stores and beauty salons.
Easy installation. Install apps right on the home screen of your device. If you have more than one Clover device or Clover devices in different locations, install apps once and sync them to all of your devices.
Useful reporting. Clover apps let you analyze transaction data, identify strengths and challenges, and make smarter decisions.
To apply online, your business will need to have:
-A Wells Fargo Business Checking account
-Less than $500,000 in annual sales
-One owner who is a U.S. citizen
Apply now
Or, call us for a quote at
1-866-380-9828

.