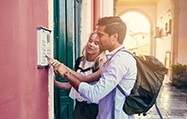 You've booked your vacation and the countdown is on. You've stuffed your suitcase with every possible outfit, pored over guidebooks, and crafted a jam-packed itinerary. There's still one last step: Have you secured your accounts and made a financial backup plan?
Before you board a plane or herd your family into the minivan, read these 10 financial safety tips to help have a worry-free trip.
Let your bank know before you go. Informing your bank about when and where you are traveling can help them monitor your accounts for unusual activity. At Wells Fargo, you can create a travel plan online or by calling the number on the back of your card. A travel plan will limit the chance of your card being blocked when you make purchases. If you are traveling internationally, note the international phone numbers for your bank and credit card providers.
Photocopy or snap a picture of important items. These include your passport, driver's license, and the front and back of the debit and credit cards you will be bringing. This step can be helpful in case your passport or wallet is lost or stolen. Store these copies securely in your hotel safe or upload to an online storage service. 
Update your mobile number. Ensure your contact information is up to date so your bank can reach you in case they detect suspicious activity. If your travels take you out of the country, check with your mobile carrier about options to receive SMS texts abroad. Wells Fargo customers can also download the Wells Fargo Mobile® app and sign up for certain alerts that can be sent via push notification, which typically only requires a Wi-Fi connection.
Set up alerts#. Alerts help you to monitor your account transactions while traveling. Set up alerts to track account activity and balances. You can choose to receive alerts via email, SMS text, and/or push notifications.
Hold your mail. Bills and other sensitive documents containing identity-related information may increase your chances of identity theft if thieves get their hands on them. Set up automatic bill payments while you're gone and request a mail hold with the U.S. Postal Service.
Carry backup currency. Keep an alternate form of payment in a different bag in case your wallet is lost or stolen. If you're a Wells Fargo customer, you can also add your eligible Wells Fargo cards to a digital wallet so you can pay with your phone where digital payments are accepted.
Use secure Wi-Fi networks. Don't access your financial accounts through public Wi-Fi networks, such as coffee shops or airports. Keep in mind your information and financial accounts may be at risk if you use an unsecure network.
Save the selfies until you get home. Avoid posting your location or agenda on social media. Sharing these details allows potential thieves to keep track of where you are, making it easier for them to time a crime. Hold off on posting your vacation photos until you return home.
Limit your use of Bluetooth. Turn your Bluetooth off when not in use. Cyber criminals can pair their device with your Bluetooth and steal your information without you knowing.
Pause your lost card. If you're a Wells Fargo customer and you misplace your debit or credit card, you can use Control Tower® on the mobile app to turn your card off while you look for it. Once you recover your card, you can turn it back on. If your debit or credit card is lost or stolen while traveling, report it to your bank right away.
Following these tips can help ensure a relaxing vacation. If you need to contact your bank while traveling, help is just a phone call away – just dial the number on the back of your card or your bank's website.
Review other travel tips and tools for managing your finances before, during and after your holiday.
# Availability may be affected by your mobile carrier's coverage area. Your mobile carrier's message and data rates may apply.