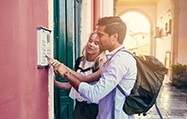 So you've booked a well-deserved vacation and can't wait to get away. Take a break from planning your itinerary to read these 10 safety tips for a worry-free trip.
Let your bank know before you go. Informing your bank about when and where you are traveling can help them monitor your accounts for suspicious activity. At Wells Fargo, you can create a travel plan online or by calling the number on the back of your card. With a travel plan in place, you can help avoid the risk of your card being blocked for vacation purchases. If you will be traveling internationally, make a note of the international phone numbers for your bank and credit card providers.
Photocopy important items. This includes your passport, driver's license, and the front and back of the debit and credit cards you will be bringing with you. Be sure to store the copies in a secure place, such as your hotel safe. These copies can be helpful in case your passport or wallet is lost or stolen.
Set up alerts. Alerts allow you to monitor your account access and transactions while traveling and provide a convenient way to notify you if your bank detects suspicious activity. If your travels take you out of the country, check with your mobile carrier about options to receive SMS texts abroad.
Look for inside ATMs. Limit your ATM use to those inside banks or use cash-back options at merchants. Reduce your risk of encountering card skimmers by avoiding ATMs that appear to have loose or poor-fitting card readers.
Travel light. Only carry what you need and leave the rest behind in a secure place. Be mindful of your personal belongings, especially in crowded areas like tourist attractions, markets, and on public transportation.
Monitor your accounts on the go. If you spot unauthorized charges, report them to your bank immediately.
Use secure Wi-Fi networks. If you want to use Wi-Fi to conduct banking activities, only do so on a secure network.  If you need to use unsecured Wi-Fi for other activities, for example, at a hotel or café, ask for the specific name of the network. Cyber criminals can create Wi-Fi networks with similar or generic names (such as "Hotel Lobby Wi-Fi") that might appear in the list of available networks. However, keep in mind when you access an unsecure network, your information may be at risk.
Save the selfie posts until you get home. Avoid posting your location or agenda on social media. Sharing these details allows potential thieves to keep track of where you are, making it easier for them to time a crime. Hold off on posting your vacation photos until you return home.
Limit your use of Bluetooth. Turn your Bluetooth off when not in use. Cyber criminals can pair your Bluetooth with theirs and steal your information without you knowing.
Pause your lost card. If your debit card is misplaced, Wells Fargo customers can use the card "on or off" button on the Wells Fargo Mobile® app to help protect your card from fraudulent use. Once you recover your card, you can turn it back "on."  If your debit or credit card is lost or stolen while traveling, report it to your bank right away.
Following these tips can help ensure a relaxing vacation. If you need to contact your bank while traveling, help is just a phone call away – just call the number on the back of your card or your bank's website.
Review other Travel Tips and Tools for managing your finances before, during and after your holiday.