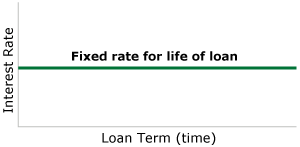 Features of a fixed-rate mortgage
Benefits of a fixed-rate mortgage
Predictable monthly P&I payments allow you to budget more easily. 
Protection from rising interest rates for the life of the loan, no matter how high interest rates go.
Considerations
The overall interest you pay is higher on a longer-term loan than on a shorter-term loan. 
On a shorter-term loan, while the interest rate may be lower than that of a longer term loan, the monthly P&I payment is typically higher than on a longer-term loan because it's being paid off in a shorter time period.

Apply online
Our simplified mortgage application will walk you through each step.

Get prequalified
Have us contact you to see how much you may be able to borrow.

Talk to a consultant