Sell more newly constructed homes and condominiums

Unmatched builder support and financing for your customers. Helping you sell more homes for more than 30 years.
Contact your Regional Builder Sales Consultant



Local support
National resources

Work directly with our knowledgeable new-construction specialists to help get your buyers into their new homes.  And, we're here locally to serve the community after your work is done.


National Builder Group
Get dedicated support with sales, processing, underwriting, and closing. As industry leaders who share your passion, we aim for a flawless experience from preapproval through funding.
NAHB exclusive leadership sponsor
Your business is our business. We're committed to the builder community as an executive leadership sponsor of the NAHB since 2008.
Condominium and Co-op Support

As a condo developer, you know project approvals can add complexity to your business. Let us help you navigate the project approval process and simplify the customer experience.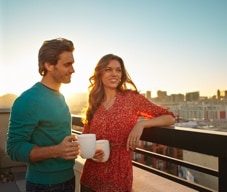 Your advantages
Specialized condo team – delivers an efficient and seamless experience
Initial legal draft reviews – prior to recording documents and launching sales
Dedicated condo and co-op underwriters – a full suite of project approval options available
Non-warrantable condo capabilities – including construction sub-phasing, lower pre-sales, high single-entity ownership, and mixed-use commercial projects
Condo conversions – full gut and non-gut options available
Rate lock programs that protect your backlog

Prevent expensive cancellations. Our extended rate lock program is second to none.
Builder Best® Extended Rate Lock program 
With a non-refundable, extended rate-lock fee, buyers can lock in a range of interest rates from 6 to 12 months, with the option of a one-time float down if market conditions improve. This helps reduce the risk of buyer fallout due to rising rates.

We work where and when you do

Local mortgage consultants are available evenings and weekends. Our dedicated support team processes your buyers' loans from preapproval to funding. And, you get backlog and pipeline management reporting to ensure milestones are hit on time.
Reach out to a Regional Builder Sales Consultant to explore how working with us can benefit you.
⁠Find your consultant

AL, GA, NC, SC
Chandler Abbott
chandler.abbott@wellsfargo.com
Texas
Mark Heidmann
512-748-8813
mark.heidmann@wellsfargo.com

FL, NJ, NY
Robert Silva
robert.l.silva@wellsfargo.com
California
Baynes Bank
baynes.w.bank@wellsfargo.com

ID, OR, WA
Karen Lambert
karen.k.lambert@wellsfargo.com
IA, IL, MN
Polli Townsend
polli.townsend@wellsfargo.com

DE, MD, PA, VA
Nick Beser
nick.beser@wellsfargo.com
AZ, CO, NV
Tekla Shive
tekla@wellsfargo.com

National Builder and Condo Leadership Team

National Builder and Condo Manager
Kelly Ann Zuccarelli
KellyZ@wellsfargo.com

National Condo Manager
Ron Sozio
ron.sozio@wellsfargo.com

New Construction National Sales Manager
Joe Crisci
joe.crisci@wellsfargo.com
Housing Reports

Check today's rates