Investing more in what's important to Native communities.
We're committed to your ideas, businesses and communities. That's why we're working to develop real, tangible services to help you create a better tomorrow—because the decisions we make today will shape our futures for many generations to come.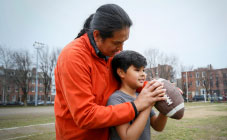 In 2018, we committed to investing $50 million over five years in national nonprofits throughout American Indian and Alaska Native communities. Through consultation with tribal members and leaders, we have identified the following areas of focus:
Renewable energy
Clean water
Down payment assistance
Homeownership advancement
Affordable housing development
Leadership and career development
Capacity building for national 501(c)(3) organizations and Native Community Development Financial Institutions (CDFIs) serving small businesses in Indian Country
Financial literacy and capability training
Asset-building programs for tribal members
Cultural awareness and language preservation
Learn more by contacting Cora Gaane, Tribal Philanthropy Leader, at AIANPhilanthropy@wellsfargo.com
Indigenous Peoples Statement
We've been having on-going discussions with tribal leaders to better understand the challenges of today, and how we can better work together. The Indigenous Peoples Statement is our commitment to you:
"We respect Indigenous Peoples' rights to determine their own way of life on their own lands, according to their time-honored cultures, traditions, and beliefs. We recognize the rights of these communities to meaningful and appropriate consultation regarding issues affecting their sacred lands and natural resources–traditionally owned or otherwise occupied and used–today and for future generations."
How the First Native American in Space is Inspiring Students.
The American Indian Science and Engineering Society is helping Native American students connect with STEM careers, thanks to support from Wells Fargo.
Generosity through Food.
The Makah Tribe has depended on the ocean for its food and livelihood for thousands of years. Now a new state-of-the-art fishing dock is helping establish economic stability for generations to come.
Community through Entrepreneurial Success.
Theresa Desautel's restaurant on the Colville Reservation in Washington state is not only changing palates but views about what's possible.
Affordable Solar Power to the People.
Thanks to new solar panels made possible by GRID Alternatives and Wells Fargo, a member of the Rosebud Sioux Tribe in South Dakota has seen her utility bills drop significantly.
Increasing Homeownership.
First Nations Oweesta Corporation teamed up with Wells Fargo & Company to offer $500,000 home down payment assistance aimed at increasing U.S. homeownership opportunities for Native Americans.
Creating Jobs through Solar Power.
Wells Fargo commits $5 million to establish GRID Alternatives' Tribal Solar Accelerator Fund–supporting solar projects and job training in tribal communities.