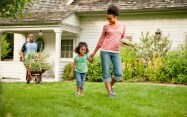 Low-to-moderate income earners may be able to become homeowners, even with a modest down payment or a limited credit history. Opportunities may also exist for homebuyers with moderate incomes through programs from cities, nonprofit organizations, and financial institutions.
These examples, based on the experiences of typical homebuyers with low-to-moderate incomes, outline different paths to homeownership without large down payments or perfect credit scores.
Sarah: Just starting out
Sarah just landed her first professional job. She's ready to become a homeowner because she has a stable career, plans to live in the home for the foreseeable future, and has enough money for a small down payment on a home.
Low down payment options from Wells Fargo might help Sarah achieve her goal to buy a home. Some features include:
Low 3% down payment on a conventional, fixed-rate mortgage
May be layered with grants and credits to assist eligible buyers with down payment and closing costs
Flexibility for buyers with a limited credit history or a less-than-perfect credit score.

Keep in mind that mortgage insurance will be required, which increases the cost of the loan and will increase your monthly payment. We'll explain the options available, so you can choose what works for you.
Talk with a home mortgage consultant about loan amount, loan type, property type, income, first-time home buyer, and homebuyer education to determine eligibility.
Rick: Finding a home for his family
Rick is an active-duty service member who recently has returned from a long tour overseas. He and his wife dream of raising their two young children in a home of their own.
Rick and his wife may be eligible to purchase their first home with a Department of Veterans Affairs (VA) loan. Benefits and considerations of doing so include:
Because VA loans offer low- and no-down-payment options, Rick and his wife can reserve part of their savings for home repairs and unexpected expenses.
Rick may be able to receive a grant from the government to use toward closing costs.
Because VA loans don't require monthly mortgage insurance, Rick and his wife will instead pay a one-time VA funding fee (a percentage of the loan amount based on type of loan, military category, first-time and prior use of entitlement, and down payment amount).
Becoming a successful homeowner
To help you become a successful homeowner, think carefully about the decision to buy, making sure that homeownership suits your personal and financial situation. Buying a home involves much more than securing a loan and making monthly payments.
If you're ready to purchase a home but the scenarios discussed above don't mirror your own, keep in mind that you may still be eligible for purchase with assistance from your city, county, or state. Wells Fargo also has several programs to help make homeownership a possibility for many low-to-moderate income homebuyers.
Empower yourself with financial knowledge
We're committed to helping you as you work toward financial success. Here you'll find a wide range of helpful information, interactive tools, practical strategies, and more — all designed to increase your financial literacy and help you reach your financial goals.
Source: FHA and VA Mortgage Programs – Wells Fargo
Customers must meet all eligibility requirements for the VA program. Please discuss with a home mortgage consultant to review current VA eligibility requirements.
Source: "Home Loans." Loan Fees -. U.S. Department of Veterans Affairs.
Source: Weston, Liz. "9 Fast Fixes for Your Credit Scores." MSN Money.
Equal Housing Lender