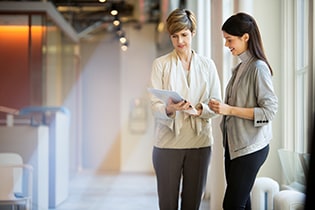 Kate Lewis, Accounts Receivable Specialist, started her job at Litehouse Inc. at the right time. Just weeks before, the food manufacturer launched Integrated Receivables (IR) from Wells Fargo. The sophisticated solution quickly transformed the company's accounts receivable (AR), fully automating 95 percent of their U.S. cash application. 
What often took her predecessor a full day, Lewis now handles in 1-2 hours. Gone are cumbersome spreadsheets, manual data entry, and hours spent tracking down details. Wells Fargo's flexible IR tool applies the power of artificial intelligence and machine learning to expedite the company's AR processes. 
Bringing scale and efficiency to AR
Wendy Gibson, Senior Accountant, manages Litehouse's AR team. After 24 years with the company, working from their Sandpoint, Idaho, headquarters, she recognizes the scale, efficiency, and benefits that automation creates. 
In a typical month, IR now automates the processing of more than $21 million in receivables. In a typical month, IR automates an average of 2,000 invoices per month and corresponding check and electronic payments resulting in significant time savings for the Litehouse Inc. team. 
"I saw the IR implementation and I was blown away at how fast and easy it was!" Gibson said. "What used to take a person nearly all day—and sometimes into the next day—now can be done in just the morning hours."
Automation is nothing new to Litehouse. Prior to adding IR, they deployed Wells Fargo's Payment Manager solution to streamline accounts payable (AP).
"It works really well," Gibson explained. "IR is the same concept, bringing in and matching payments automatically. To add receivables and get efficiencies here has been awesome."
Eliminating spreadsheets, manual work, and all-day effort
Founded more than 60 years ago, Litehouse has grown from a local institution to a nationwide powerhouse. Their flagship products include a variety of high-quality salad dressings, dips, and salsas found in grocery stores, cafeterias, and restaurant chains around the country. 
Processing the invoices and payments associated with a food service business, however, means nuances not found in other industries. With large customers, for example, a single check can cover dozens or even hundreds of open invoices. Customers also routinely apply discounts to their payments, reflecting everything from early payment to products damaged during delivery. 
Unraveling those details required patience and hard work for Litehouse. The company uses a specialized ERP for manufacturers. While the system contains fields for discounts and other notes, the AR team could not apply cash directly in the ERP. First, they needed to match payments and open invoices, then balance each day's cash in an Excel spreadsheet. 
"The old way, you had to type everything into a spreadsheet, make sure everything balanced, and it was very cumbersome and time consuming," Gibson recalled. 
She added, "It used to take all day, and sometimes into the next day. We'd all have to pitch in and get caught up."
Automation reduces aging from millions of dollars to under $500,000
Now, only Canadian payments require a spreadsheet, and Litehouse looks forward to automating them with IR in the future. 
Gibson and Lewis cite numerous advantages with IR, from reduced Days Sales Outstanding (DSO) and accelerated collections to greater productivity in the AR team. 
"A year ago, our aging was very high—and now our 60-day report has shrunk from a few million dollars to under $500,000," Gibson said. "Part of that is because Kate can get payments in, then move on to collections faster."
Lewis agrees. Her strength is collections; being able to apply each day's cash quickly gives her ample time to for outreach to customers and other activities that create a positive impact on the bottom line. 
"It's the time factor," Lewis explained. "If I had to post everything manually, it would take all day. IR gives me time to do other things—specifically collections and some deductions—without needing another person."
Managing growth without adding FTEs
Senior management also appreciates the benefits of IR, especially the savings it creates as the company continues to expand. Litehouse Inc. has grown to include five owned brands and a handful of exciting licensing partners, like California Pizza Kitchen. IR has enabled Litehouse's small AR team—just four specialists for invoicing, deductions, cash application, and collections—to keep up with the pace and they now have more capacity for other core activities.  
"We're just growing out of sight, but Integrated Receivables has helped us scale our business without needing to hire more  headcount," Gibson said. "We would have needed another person to do collections if we kept working manually."
Gibson's pride in their accomplishments comes from being not just the manager of AR, but a stakeholder in Litehouse's future. The organization is 100% employee-owned, sharing values of integrity, stewardship, accountability, and excellence. Using IR helps them achieve these goals. 
She encourages other organizations to make the switch to IR. Her advice? 
"I'd tell them get with this century! We're all looking for new efficiencies, and this is the way to go," Gibson said.
Lewis concurred, adding, "Integrated Receivables makes the process so time efficient—it really has been amazing."