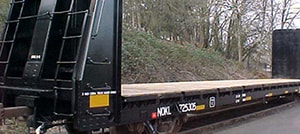 Our flat cars are available in a variety of lengths, configurations, and capacities, including heavy duty and dimensional flat cars for highly specialized and oversized shipments.
Commodities
Lumber and wood
Packaged forest products
Primary metals

Steel plate and slab
Pipe
Rail products

Heavy duty vehicles
Autoracks
Intermodal Equipment

Containers
Trailers
Chassis
Equipment
General service

56 – 61 feet
Greater than 89 feet

Bulkhead
Log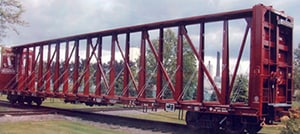 Our centerbeam cars are built with bulkhead ends and a center partition that extends the length of the car. They are available in a variety of lengths between 60 and 73 feet. Centerbeams can have gross rail loads of 263,000 to 286,000 pounds and are available with or without risers.
Commodities
Lumber and wood
Wallboard
Wood laminates
Equipment