September 2022
by Courtney Buerger Schmidt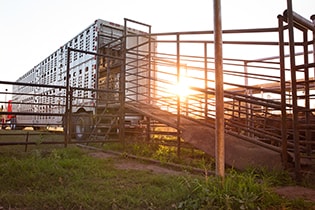 As I walk through the cotton fields on my family farm in Texas, I wonder how much the chemicals will cost this week – or if they'll arrive at all. My cattle also need feed which is becoming harder to find. The cost to haul our grain and cattle has increased, we're eating into our profits, and now there's the truck driver shortage. Farming is a part of my DNA and I've witnessed firsthand the effects of the shipping and transportation disruptions. 
I know I'm not the only one facing these struggles. Farmers and ranchers across the country are scratching their heads and reaching into reserves just to handle day-to-day operations – and some of them are even stockpiling grain. The question is, will agricultural transportation see any improvements during the remaining and future harvest seasons? Perhaps. This is what we know so far:
Ocean
We're seeing some improvement in ocean shipping. The rates have been softening since the late summer of 2021 but remain well above pre-pandemic levels. 
On June 14, the International Longshore and Warehouse Union (ILWU) and the Pacific Maritime Association (PMA) employer group, communicated in a rare joint statement that despite port employees' contracts expiring they were not planning any work stoppages or lockouts that would worsen supply chain logjams.
The signing of the Ocean Shipping Reform Act on June 16, 2022 not only shifted the burden of proof to show the reasonableness of fees to ocean carries instead of shippers, but it also pushes the Federal Maritime Commission (FMC) to act more aggressively on unfair detention and demurrage charges. 
What that means for you: Shipping container availability and freight rates for U.S. agriculture export products are improving but still under pressure. The industry is hopeful the new Ocean Shipping Reform Act will continue to improve ocean shipping conditions. 
Trucking
Freight rates started experiencing some alleviation in May as capacity increases and demand declines. 
Fuel price hikes are putting strain on consumer demand for goods as household budgets are stretched thin. This gives other types of freight some rate relief as load volume is down and truck capacity is up. 
To put further strain on consumers, fuel surcharge contracts transfer price risk from transportation provider to the end-user. The speed and amount of price change is paid by the consumer. 
California's AB-5 heralds another uptick of transport rate hikes as transportation companies need to embed additional costs into rates – causing contract agribusiness transport rates to continue to rise. 
Seasonal bulk agricultural demand for local and regional hauls with specialized trailers doesn't have the same characteristics of longer haul routes with reefers or flatbeds. 
What that means for you: The decrease of freight rates for companies, the increase of fuel surcharges for consumers, and the truck driver shortage are creating a standoff for the end-user and the agribusiness trucking industry. 
Rail
Labor appears to be the main issue for railroad Ag transport.  According to the National Grain and Feed Association, railroads were already down roughly 25% in staffing prior to the pandemic – which was only exacerbated in the months to follow. Contract negotiations with employees threaten more disruptions in railroad shipping.
The West Coast is especially struggling with receiving grain and feed for their livestock and poultry operations through railway shipping – issues that have been ongoing since late winter. The Surface Transportation Board (STB) issued an emergency service order to Union Pacific Railroad to give preference and priority to unit trains of corn from the Midwest to Foster Farms' facilities in Traver and Turlock, CA. 
Pilot Company is also in a dispute with Union Pacific over train deliveries of urea for diesel exhaust fluid (DEF) – producing and selling 30% of the U.S.'s supply. There is concern that shifting deliveries to over-the-road trucks will result in higher costs, additional delays, and DEF shortages. The price for DEF is at an all-time high of almost $4 per gallon.
What that means for you: On July 15, President Biden issued an executive order to help end the contract dispute between major freight railroad companies and the Unions, including Union Pacific and BNSF. The executive order will appoint a board of arbitrators to help the two sides work towards a settlement. It prevents operational shutdowns or strikes while the board investigates the dispute and delivers a report within 30 days recommending how it should be resolved. 
Is there any hope in sight?
Whether you use ocean shipping, railway shipping, or trucking to run your business, there are challenges and opportunities for the whole. No one truly knows what will come of the laws and regulations now in place until they have been enforced and acted upon. What I do know is that if this pandemic has taught me anything, we just need to keep moving forward the best we can and roll with whatever comes next.  

Courtney Buerger Schmidt is a Sector Manager within Wells Fargo's Agri-Food Institute focused on the protein, cotton, and hay sectors. Courtney originally joined Wells Fargo in 2014 as a relationship manager within The Private Bank Wealth Management group where she spent two years prior to assuming her current role. Before Wells Fargo, Courtney spent six years as a commodity broker and research analyst with Frontier Risk Management developing hedge and risk management strategies for Agribusiness clients, and also served as assistant director of the research division that focused on livestock, grain, and oilseed.
Courtney holds a Bachelor of Science degree in Agricultural Economics with an emphasis in finance and real estate from Texas A&M University. Courtney was recently selected for Texas Agriculture Lifetime Leadership (TALL) Cohort XVIII 2022-2024. She is also a member of the Texas A&M College of Agriculture Development Council .