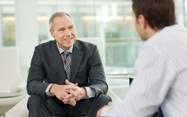 In addition to the vaults, security guards, and fraud protection measures that banks use to keep your money safe, a higher level of security is protecting your funds – the FDIC, or Federal Deposit Insurance Corporation. The FDIC maintains stability and public confidence in the U.S. financial system by insuring deposits in the event that the financial institution fails. The FDIC also supervises the safety and soundness, as well as consumer protection compliance, at financial institutions.
In the depths of the Great Depression, the FDIC was created by the federal Banking Act of 1933. Congress wanted a mechanism in place that would guarantee the safety of deposits in member banks. And according to the FDIC, "no depositor has lost a penny of FDIC-insured funds."
Tip
Before opening a deposit account, look for the logo that says, "Member FDIC"
Fortunately for consumers, there are thousands of financial institutions that are FDIC-insured, including Wells Fargo. FDIC insurance limits cap at $250,000. The FDIC insures certificates of deposit and money market accounts, along with traditional checking and savings accounts. Some items that are not FDIC-insured include mutual funds, safety deposit box contents, annuities, and others. It is possible to qualify for more than the current $250,000 in coverage depending on type of account and ownership category; you should ask your banker about your specific situation or visit the FDIC for more information.
FDIC-insured accounts give you peace of mind, so you can have the confidence to manage your finances and start saving today.
Empower yourself with financial knowledge
We're committed to helping with your financial success. Here you'll find a wide range of helpful information, interactive tools, practical strategies, and more — all designed to help you increase your financial literacy and reach your financial goals.
"The FDIC and the Banking Industry." Federal Deposit Insurance Corporation.  January 29, 2018.
Federal Deposit Insurance Corporation. "Historical Timeline 1930s." January 2, 2014.
Wells Fargo Bank, N.A. Member FDIC.