September 2022
By Michael Swanson, Ph.D., Wells Fargo Chief Agricultural Economist
Both agriculture and food manufacturing walk in the economic parade of the U.S. economy, but they certainly march to the beat of a different drummer. As the economy measured by GDP grows, they both receive a boost over time, but they don't grow as fast typically, nor do they ever really shrink. This is both good and bad news all wrapped together for the sectors.  The good news is that if we do have a recession, mild or severe, then agriculture and food manufacturers will not see their top line revenue shrinking. (The immediate caveat is that competition between different crops and foods can be intense during a recession as consumers look for better values.) The bad news involves the long-term outlook that has the share of agricultural and food manufacturing growing slower than the overall U.S. economy into the foreseeable future.
A question is good place to start thinking about this issue: "What do you know and how do you know it?" The Bureau of Economic Analysis (BEA) is the scorekeeper for the economy, and they track both the total and the subsectors. The following graphs show the year-over-year change for the nominal GDP and the nominal food expenditures. Over the 25 years, GDP has outpaced food expenditures 75% of the time, and the two recessions show food expenditure growing even when the economy contracted. 
The 2009 recession was a near thing with just minimal growth, but low growth is better than no growth or contraction. The 2020 recession was an anomaly in so many ways with its services-led contraction.  The disruption of the food chain and the stay-at-home environment kicked off food inflation. This caused a major spike in food spending relative to the overall economy. Just prior to the recession, food expenditures were down to 4.8% of GDP. During the lockdown quarter, they spiked to almost 6% of GDP, and the most recent quarter was 5.3%.  It is my assumption that food expenditures will continue to decline back towards their pre-COVID level at a leisurely pace.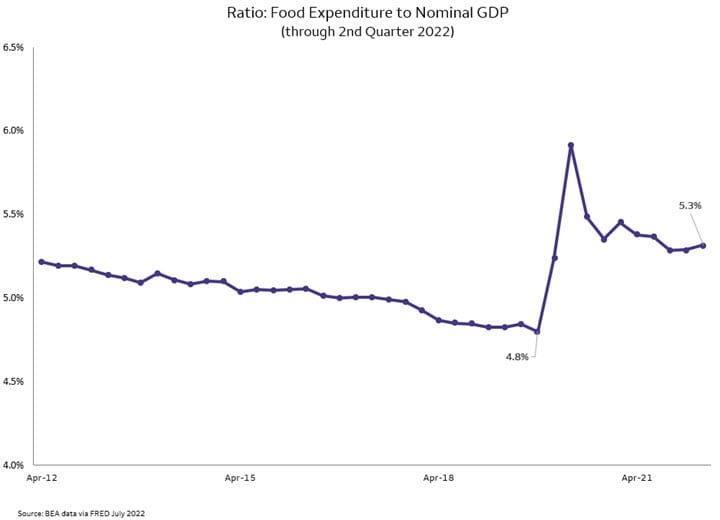 While the BEA is the scorekeeper for the economy, the USDA is the only real source of detailed economic information for the economy. The following chart shows no correlation between GDP and agricultural revenue, and this should not be surprising. The commodity markets (especially agriculture) are driven by weather, regulatory, trade and cyclical issues that are almost completely independent of the larger economy. Over the last 25 years, there have been eight contractions in agricultural revenues versus the two recessions. Additionally, agricultural has twice the volatility of the overall economy when measured as absolute percent change.  The graph shows that agricultural revenue declined in 2009 and 2020, but was that because of the overall economy? This is just randomness asking for a backstory.
Agricultural producers certainly directly feel the impact of the larger economy on costs of labor and energy, but those are a relatively small percentage of their cost structure for most crops. More than 50% of the crop revenue in the U.S. is tied to corn and soybeans. In those two crops, more than 80% of their cost structure comes from five inputs; cash rent for land, fertilizer, equipment, seed technology, and crop chemicals. No doubt, the cost structure of fresh fruits and vegetables are more labor and freight intensive, and in aggregate they are a relatively important part of agricultural revenues, but they do not drive the train.
So, if the U.S. economy is deemed to be in recession, what does that mean for food and agriculture?  There are a couple of developments to be expected. First, food manufacturers would expect an improvement in labor availability and slowing wage growth. Almost as important, the quit rate that has so negatively impacted their high-turnover categories would fall, helping productivity, through longer employee retention. Freight rates from factory to retail would fall helping margins as well. Less demand from other sectors and lower crude oil prices would certainly pressure freight rates lower for a while. 
Would these two factors be enough to offset price pressure from the retailers? It is beyond my ability to generalize, but categories and brands would be put to the test to see who really brings the value in a recession environment. How about agriculture? The outlook for 2023 depends on the resolution of the Russian and Ukraine conflict. When that conflict ends, the recovery of Ukrainian production along with less restrictions on Russian commodity sales will pressure agricultural prices significantly more than any recession pressure. Of course, weather is always a wildcard, but expecting normal growing conditions will also help supply and pressure prices lower.

Michael Swanson, Ph.D. is Wells Fargo's Chief Agricultural Economist. Based in Minneapolis, his responsibilities include analyzing the impact of energy on agriculture and strategic analysis for key agricultural commodities and livestock sectors. His focus includes the systems analysis of consumer food demand and its linkage to agribusiness. Additionally, he helps develop credit and risk strategies for Wells Fargo's customers, and performs macroeconomic and international analysis on agricultural production and agribusiness.
Michael joined Wells Fargo in 2000 as a senior economist. Prior, he worked for Land O' Lakes and supervised a portion of the supply chain for dairy products, including scheduling the production, warehousing, and distribution of more than 400 million pounds of cheese annually, and also supervised sales forecasting. Before Land O'Lakes, Michael worked for Cargill's Colombian subsidiary, Cargill Cafetera de Manizales S.A., with responsibility for grain imports and value-added sales to feed producers and flour millers. Michael started his career as a transportation analyst with Burlington Northern Railway.
Michael received undergraduate degrees in economics and business administration from the University of St. Thomas, and both his master's and doctorate degrees in agricultural and applied economics from the University of Minnesota.