Your company may quickly turn accounts receivable into cash, reduce financing costs, and enhance working capital through an early payment program, provided by Wells Fargo. Wells Fargo provides the option to receive cash early at a competitive rate that may leverage a buyer's financial strength.
Benefits of supplier finance programs 
The early payment program may offer the following benefits:
Increased cash flow and borrowing capacity
Lower borrowing costs, that reflect your buyer's favorable borrowing rates
Improved working capital metrics from lower accounts receivable balances and accelerated cash flow
Payment and remittance transparency via online portal and email notifications
How the early payment program works
The program consists of five steps shown below:
Supplier ships goods and sends an invoice to the Buyer using existing process
Buyer approves the invoice and sends notification to Wells Fargo for payment
Wells Fargo sends payment to Supplier via ACH or wire
Wells Fargo takes ownership of invoice upon supplier receipt of payment
Buyer funds Wells Fargo for the full amount of the payment due on the invoice due date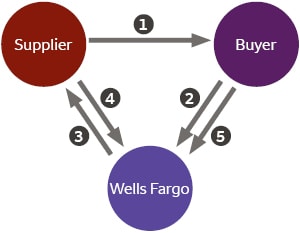 Sample savings calculation
In the example below, the supplier would save $87,389 annually and receive payments on day 10 instead of day 120.


Without program benefits

With program benefits

Annual sales to buyer
$10,000,000

$10,000,000

Proposed payment terms / payment receipt date

120

10

Current cost of capital
9.50%

9.50%

Discount margin
n/a

1.75%

Benchmark rate Term SOFR
n/a

4.89%

Program all-in rate
n/a

6.64%

Carry cost through payment date

$316,667

(120 days @ 9.50%)


$26,389

(10 days @ 9.50%)


Discount cost
n/a


$202,889

(110 days @6.64%)


Total cost
$316,667

$229,278

Annual savings with program
n/a

$87,389
Enrollment and payment steps
1. Complete information form
Wells Fargo will provide your company a copy of the form to start the enrollment process
If you need a copy of the form, please contact us at WFCFSupplierFinance@wellsfargo.com
2. Sign agreement
Wells Fargo will provide your company a Receivables Purchase Agreement to sign
If your company has a secured bank lending relationship, Wells Fargo will provide a lien release document for your company and bank to sign
3. Fund
Wells Fargo will advise supplier of the go-live date for the first invoice purchase
Upon a buyer's confirmation of approved invoices, Wells Fargo will have the option to purchase it by providing immediate funds based on your company's set up preference
Key provisions of the receivables purchase agreement
Your company assigns rights of its purchased accounts receivable to Wells Fargo
Wells Fargo assumes ownership and title to receivables upon payment
Only invoices approved by buyer are eligible for purchase
Transactions are intended to be non-recourse
Invoice purchase is not a loan