We can help you reflect your personal values in the investment choices you make whether you're concerned about the environment, have strong religious beliefs, or simply wish to invest in companies whose policies and practices help generate a positive social and environmental impact, as well as focus on financial performance.
By combining traditional Socially Responsible Investing (SRI) practices with a disciplined analysis of Environmental, Social and Governance (ESG) factors, we offer a truly integrated approach to Social Impact Investing. Tell us what's important to you and we will provide a customized strategy to help you incorporate your values into your investment management portfolio.
For more than 20 years, Nelson Capital Management was at the forefront of innovation and leadership in socially responsible investing. Nelson provided solutions to Wells Fargo clients beginning in 2002. It has now become part of Wells Fargo Private Bank, enabling The Private Bank to bring you greater resources and industry respected Social Impact Investing (SII) solutions.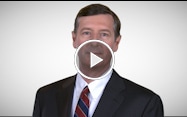 Answers for Responsible Investors (Video)
Head of Social Impact Investing Lloyd Kurtz addresses investor questions about social impact investing.
Answers for Responsible Investors (Report)
Reasons for investors to consider social impact investing strategies.