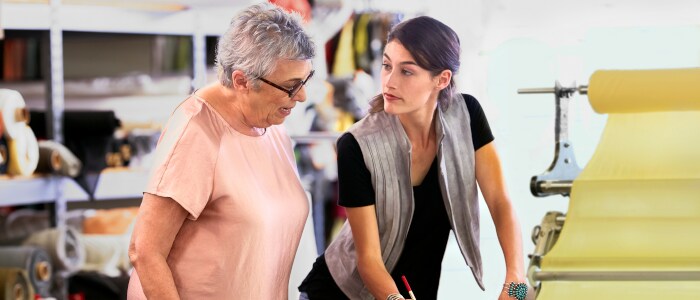 Key Takeaways:
There are seven considerations owners should address when preparing to transition their business to family members.
What this may mean for you:
Transitioning a family business to the next generation is no small task — research has shown 33% of family businesses transition successfully to the next generation. Understand what steps you can take to help make your transition one of the successful ones.

Transitioning a family business from one generation to the next is no small task. Research has shown that only about 33% of family transitions are deemed "successful" as defined by the business continuing to operate in the next generation. What can you do to be a part of the 33% that succeed, not only in business but as a family? We outline seven considerations that are important to address when beginning succession planning conversations.
What's the vision for the family business?

Successful families have a shared vision (or purpose) for the future of the family and the family business. There is alignment in this vision, and meaningful time is spent to educate and discuss the vision of the business. There may still be concerns to work through, and certain individuals may view their lives as following a different path, but the large majority of the family buys into and is willing to follow the vision. It is important that the rising generation is heard and modifications are made to the vision to accommodate the next generation that will take over the business in the future.


How well prepared are you?

What has been done to prepare the next generation to assume stewardship over the family business? There are many areas the next generation will need training and experience in, such as finance, leadership, and industry knowledge, as well as building relationships with suppliers, customers, and others.

This preparedness may also include an assessment of the family's and business's blind spots that could be part of a S.W.O.T. (strengths, weaknesses, opportunities, and threats) analysis. An inventory of the next generation's strengths and competencies should be compiled and evaluated to determine who might have the appropriate abilities for certain key roles in the business. This will allow current leadership to focus on these individuals and groom them as their successors. It is just as important to know if the necessary strengths and competencies are not within the family, to allow the family time to determine if this is an optimal asset for the next generation or if non-family members should be brought in to fill these key roles.


Have you set expectations for the next generation of owners?

Setting expectations for the next generation of owners can help create stability for the family and the business. Generally, when expectations and outcomes do not match, it leads to a lack of harmony and potentially contention. This can impact the family and the business. Establishing clear expectations for family members increases the likelihood of success in the business and harmony in the family. These expectations may include family employment policies, mission statements for the business and/or family, dividend policies to shareholders, and a family charitable policy.


How engaged are the non-family employees?

Non-family employees are key to the success of most family businesses. Successful families understand the key role these employees have played in making the family business what it is today and that it could not have been done without them.

Care should be taken with key non-family employees to ensure that they feel taken care of and fulfilled in their careers at the family business. These employees may feel a glass ceiling due to not having the correct lineage. They may become frustrated if the family is not in harmony and they are left dealing with the consequences to the business. Providing them with financial incentives can encourage future ties to the business. These employees may be selected to step into key roles until a family member is ready or as the best long-term solution.


How will you maintain family harmony?

Most closely held business owners will tell you what they want for their family is harmony. They want to be able to have their family gather for holidays and enjoy each other's company. As idealistic (and maybe unrealistic) as this may sound for any given family, this is what most are seeking. This closeness as a family is also one of the key indicators of the success a family will have in business together. Harmony takes desire, time, forgiveness and forgiving, understanding, and more.


How to establish trust with family members?

Before a family can approach a transition, trusting that the individual members can be valued and heard for who they are and what they bring to the conversation is crucial. All families who share in a business operation may have different thoughts about how decisions should be made. Families who employ an outside third party to facilitate family meetings where plans are discussed generally fare better than those who go it alone. Transparency and honest communication builds trust and fosters a sense of openness where individual members can ask questions and discuss individual and collective needs.


How will operations change?

For most business owners, answering the questions around ownership transition and control are much easier to answer than how the business will operate once they are not the operator. Most owners are less confident around this issue and thus may deflect addressing the need. You may need to roll up the proverbial sleeves and lean in on creating and implementing an operational transition. Transitions can take multiple years as new managers are brought in and allowed to grow into their new positions.


Conclusion
While nearly 66% of family businesses fail in transitioning to the next generation, there are several factors that if addressed early can assist your family to be part of the 33% that are successful. Our experience has shown families who meet on a regular basis to discuss the future of the business are more successful than those who do not meeting regularly. To learn more, contact your advisor.
Authors: Jeremy Miller, Business Owner Advisory Strategist, Wealth & Investment Management; Gary S. Shunk, Lead Family Dynamics Specialist, Wealth & Investment Management