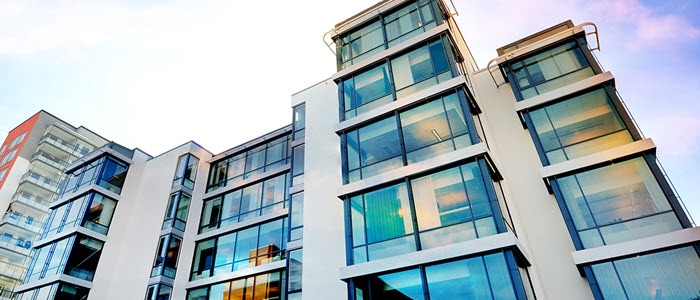 In this paper:
The pandemic continues to have a significant impact on the economy, presenting real estate investors with the challenge of navigating the potential long- and short-term impacts on property performance.
Investors should consider the risks and rewards associated with different property types as the country deals with the coronavirus and moves toward a new normal.
Consulting with an experienced real estate asset manager  on strategies for maintaining cash flow, preserving property value, and exploring investment opportunities may be essential in this uncertain market.
Investing in real estate can be an excellent way to diversify a family's overall wealth. This asset class provides the potential for a stable income stream and value appreciation, along with generous tax benefits and low correlation to an equity portfolio. However, investors also need to recognize some of the risks specific to real estate, such as its illiquid nature and the broader impact of the economy on underlying real estate fundamentals. 
The risks and rewards of investing in real estate  are particularly relevant during the current economic downturn caused by the coronavirus pandemic. Real estate investors should recognize that the pandemic may have an impact on where people work, how they shop, and where they choose to live. 
The crisis has certainly impacted various property types differently. Broadly speaking, retail and hotels have been hit hardest, along with restaurants, gyms, and other recreational properties, whereas industrial assets have remained relatively stable. The dynamics of office and multifamily real estate  will likely evolve as a result of the pandemic; however, it is too early to be certain what the long-term impacts will be.
Assessing the impact of COVID-19 on different property types
Industrial
Industrial real estate has held up better than the other property types during the pandemic, we believe in large part due to the increase in online shopping and the subsequent need for warehouse and logistics space to support e-commerce. While brick-and-mortar retail landlords have been scrambling to provide rent relief to temporarily shuttered tenants, rent collections for industrial properties have remained strong during the economic shutdown.
As it appears that cash flow  is in place for many industrial properties, we also believe underlying fundamentals remain intact. According to CoStar, the national vacancy rate for industrial real estate for the third quarter of 2020 remains strong at 5.7%, with 3.3% year-over-year rent growth. For example, consider current cap rates, a measurement that describes the expected unleveraged yield generated by the property, ignoring appreciation. Cap rates have averaged 6.7% for the same period, which is in line with the pre-pandemic levels from Q4 of 2019, and we see that as in indication that industrial property values have held steady. 
While many signs point to a generally positive outlook for industrial properties, investors should be mindful that a slower economic recovery (or reversal of reopening) may weaken demand for domestic and international goods, or potentially lead to supply chain disruptions. Either scenario could have an adverse impact on warehouse and distribution centers, we believe particularly in port markets. Over the long term, however, we expect industrial properties to benefit from the continued acceleration toward e-commerce. Further, service-oriented industrial and flex space may not perform as well as distribution centers, given the impact of COVID-19 on many service-oriented tenants.
Apartments
Over the long-term, apartments have outperformed all other property types due to the basic human need for a place to live. We expect that to remain the case despite the short-term impact from COVID-19 that has resulted in lower rent collections and higher vacancy rates. The abrupt shutdown of the national economy provided a shock to employers and their workers, resulting in tens of millions of jobs lost. Among the hardest hit were hourly workers, who make up a significant portion of apartment tenants. In order to reduce the short-term impact of lost wages, the federal government stepped in to provide relief in the form of one-time payments, enhanced unemployment benefits, and moratoriums on evictions—all of which provided the means to help some tenants pay rent and stay in their homes. As a result, approximately 95% of tenants have paid rent throughout the pandemic, according to the National Multifamily Housing Council.
In all likelihood, we could see a drop in payment levels as these relief programs expire. As of the third quarter of 2020, apartment vacancy was reported at 6.8% nationally, with year-over-year rent growth shrinking to 0.0%, according to CoStar. Cap rates have remained steady at 5.6% as of the end of the third quarter, which is relatively unchanged from pre-pandemic levels. We expect to see an increase in vacancy rates and, subsequently, a decrease in overall apartment values, and potentially a decrease in multifamily sales activity.
A major consideration for apartment investors going forward will be understanding the changing dynamic between urban and suburban housing driven by where people will choose to live post-pandemic. The Great Recession of 2008 and 2009 began a trend toward an urban life and work environment. The theme of city living and the idea of "live, work, play" was seemingly embraced by millennials and baby boomers alike. However, the psychological impact of quarantining in a small urban apartment for months on end during the pandemic may serve to bolster a more widespread migration back to suburbia.
It is our observation that millennials have been moving to the suburbs in higher numbers over the past few years. This trend may be further accelerated as office workers are given more flexibility to work from home. As an early indicator, in July, New York City reported its highest apartment vacancy rate in over 14 years. The end result could be that major cities look a little younger and a little less expensive in the future. It is important to keep in mind that major urban centers, like New York, are generally better positioned to rebound from a downturn and that short-term dislocation typically presents investment opportunities. We believe that once the large-scale risk of the pandemic has been mitigated, migration patterns will likely reverse back to the urban centers for the vast amenities and social networks that they provide, particularly for young adults.
Office
In our initial report on real estate during the pandemic, The Impact of COVID-19 on Real Estate Markets, we stated, "the COVID-19 crisis has forced many companies into an involuntary trial run of having employees work from home." Now that we are several months into the crisis and companies have had a chance to evaluate productivity levels of their at-home employees and the future amenities of urban office markets, companies are actively assessing the contribution of their pre-COVID office space to their bottom line. In several high-profile cases, employers are finding that productivity has not plummeted as once feared. For example:
Google declared in March that all of its roughly 100,000 North American employees should work from home. Since then, the company has reopened some offices but in late July, extended employees a voluntary work from home option through July 2021.
Outdoor retailer REI, in a bid to control costs, just put its brand-new Seattle office headquarters up for sale before even setting foot in it. REI is choosing instead a combination of multiple smaller offices and increased employee work from home options.
The pandemic has led to a near-term flight from the urban cores, resulting in companies executing fewer and shorter leases and putting their unused space on the sublease market. Dramatic declines in office leasing activity and rises in office sublease space available are now appearing in market surveys of diverse and some of the strongest pre-pandemic office markets.
The economic impact of COVID-19 will also force some companies to cut costs and office rent is a significant expense for most firms. 
Retail
The retail sector is perhaps the most broadly diversified real estate asset class. It ranges from food, entertainment, and personal care service providers to a variety of hard- and soft-good vendors spread across diverse geographies and property configurations. Initially, the coronavirus hurt the prospects of most retail categories with a few notable exceptions like home improvement retailers. As restrictions began to lift across the country, retail spending began to bounce back, hitting an all-time high in July. However, most of the snap back has occurred in the goods sector, which is only about half as large as the service sector. We believe that the lag in retail service spending can be directly attributed to the fact that retail service-oriented properties and tenants are bearing the brunt of various lockdowns and restrictions.
The "retail apocalypse," led by a shift from brick-and-mortar retail to e-commerce, has been talked about for several years. By most estimates, the pandemic has only accelerated the e-commerce trend, reflected in the regional mall component of the Nareit (National Association of Real Estate Investment Trusts) Equity Real Estate Investment Trust (REIT) index being down around 50% year-to-date. Stay-at-home restrictions and e-commerce have hit mall owners and lenders hard, especially enclosed malls. 
Perhaps the iconic Mall of America, with its broad mix of retail, food, entertainment, hospitality, and even office space, best illustrates these challenges. As of mid-summer, its owner was three months behind on its $1.4 billion loan after a revenue drop of 85% since it was forced to close due to the coronavirus. Its lender now has the dubious distinction of having one of the largest underperforming retail loans in the country.
Prior to the coronavirus, large mall owners and opportunistic investors were racing to reposition their retail holdings into mixed-use lifestyle centers that included office, apartments, fitness, retail, and entertainment. Now, this repositioning has slowed as owners reevaluate future demand for certain uses and struggle to preserve current cash flow. One positive new use for the often-empty big box anchors of malls is emerging from an unlikely source–e-commerce retailers hoping to expand their last-mile distribution and fulfillment centers. 
Despite the uncertain outlook for the brick and mortar retail industry, we do recognize that well-located retail properties may have healthy demand, even if it requires transformation of a portion of the tenant base from traditional retailers to other services, amenities, and experiences that serve the community. 
Defensive positions for real estate investors to consider in these uncertain times
2020 has certainly evolved into a turbulent year on several fronts. The coronavirus pandemic has, at least in the short-term, shifted the way people work and shop and where they want to live. We believe that these events, coupled with an upcoming presidential election that could significantly shift economic and social policy going forward, create an environment of uncertainty for real estate investors. Market data across the country is now beginning to show the impact of the coronavirus on direct-owned real estate. 
From the beginning of the pandemic, the Real Estate Asset Management team has been working with clients in anticipation of this impact. We recommend that property owners consider the following points:
Continue to preserve the cash flow and value of their assets as states and municipalities enact rent relief measures and tenants request lease modifications. 
Consider reviewing their operating budgets and capital improvement plans to best prepare for a prolonged economic downturn due to the coronavirus.
Potentially set themselves up for long-term success by positioning their assets within their local markets to attract new tenants and especially retain existing tenants as real estate activity slows.
Conclusion 
Real estate is a very diverse asset class. It is diversified by property type, location, tenant mix, investment lifecycle, age, and quality among other things. The current crisis has served to emphasize these differences, illustrated by the strong performance of industrial and multifamily properties versus the uncertain and lagging performance of office and retail properties.  
One of the fundamental reasons for including direct-owned real estate  in your portfolio of assets is its potential for strong, often tax-advantaged returns and low correlation to other asset classes. Historically, cash flow has been a significant driver of those returns. Real estate cash flow is highly dependent upon the health of the property's existing tenants and the capacity of the property to attract future tenants. The pandemic's impact on some tenants' cash flow (particularly service retailers) and the uncertainty it may have on future work preferences for office tenants is directly affecting real estate investment. Cash flow pressure and market uncertainty may be keeping investors and lenders on the sidelines. Commercial real estate loan  activity is now off about 30% from the end of March.
Property owners appear to be focusing on shoring up existing holdings rather than committing to major new projects and ambitious capital improvement plans. It's still too soon to tell whether the pandemic will accelerate long-term trends, such as a flight from urban cores to the suburbs, but the near-term dislocation in some of the real estate asset classes is very real. 
It is uncertain how long and severe the economic impact of the coronavirus will be on certain types of direct-owned real estate. In these times, it can be especially important to enlist the services of professional real estate asset managers who can help develop defensive market strategies aimed at preserving cash flow while positioning assets and portfolios for future market opportunities. 
There are special risks associated with an investment in real estate, including the possible illiquidity of the underlying properties, credit risk, interest rate fluctuations, and the impact of varied economic conditions.
Authors: Scott Bennett, Real Estate Advisory Specialist, Wealth & Investment Management, Wells Fargo Bank, N.A.; Craig Zuelke, Real Estate Advisory Specialist, Wealth & Investment Management, Wells Fargo Bank, N.A.