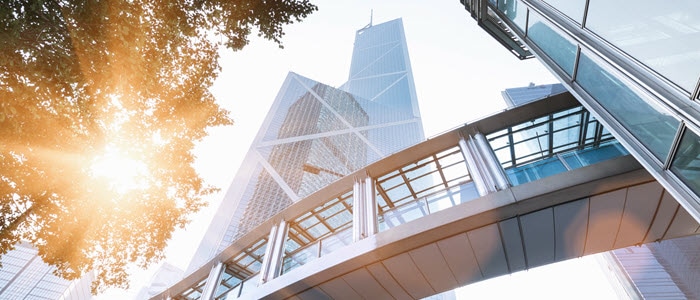 In this paper:
The pandemic has led to a widespread thinning of tenant demand, freezing much of the commercial real estate market in its tracks, but strong market fundamentals leading into the pandemic provide the potential for an accelerated rebound in performance.
Investors can look to the commercial real estate market's recovery following the Great Recession to help anticipate what the short- and long-term impact on property performance from the current downturn may be. 
Access to professional real estate market analysis can provide investors with help to position their current portfolios and potentially capitalize on existing market conditions when identifying new opportunities.
The commercial real estate market has been hit hard by the coronavirus pandemic. Cities across the U.S. are reporting rising office vacancies as they are hollowed with employees working from home. Many retailers are struggling to stay open as mandated shutdowns, health and safety concerns, and an intensified surge to e-commerce have shifted consumer traffic away from the storefront. If you read headlines in the media, it wouldn't be surprising if you thought that now is not the time to be purchasing commercial properties to add to your real estate portfolio. However, as with everything in life, the realities are more nuanced.
So what is the outlook for the recovery of privately held commercial real estate? Although not a guarantee, one of the best predictors for commercial real estate trends can be past performance. By analyzing and comparing the current commercial real estate downturn to the Great Recession, we can draw parallels in real estate fundamentals to better understand what this recovery period may look like.
This downturn is different from the last one
The real estate market cycle classically follows a pattern of four stages: 1) expansion, 2) hyper-supply, 3) recession, and 4) recovery. While the coronavirus outbreak largely flipped this pattern on its head, we can still look back at the trends from the last recession in 2009 to better understand the possible prognosis for this cycle's recovery.
Typically, recessionary periods in real estate markets occur following a period of "hyper-supply." This stage occurs when new construction aggressively exceeds demand, leading to rising vacancies. Oversupply compounded with a softening of demand often can lead markets into the recession stage. 
The last downturn impacted all asset classes in the real estate sector. The hyper-supply stage was in full effect with large amounts of new inventory flooding the market and demand plummeting, followed by liquidity drying up to further compound the issues. This cycle's downturn is primarily a demand issue with new supply largely in line with market requirements, resulting in the potential for fewer lingering symptoms, a shallower decline in occupancy, and a subsequent faster entry into the recovery phase. 
Sales activity in the short term likely will be stalled as investors try to better understand long-term market risk and take a wait-and-see approach towards distress sale opportunities. There is some overlap with the trading of REITs; however, we will focus on the performance of the physically held real estate for the purposes of this paper. 
Our analysis will discuss the operating fundamentals of privately held real estate performance such as supply, absorption (demand), vacancy, and rent growth. These variables tie into the pricing of assets, but do not necessarily impact cap rates—the estimated yield based on the expected income generated by the property (ignoring appreciation), which is used to assess real estate deals—and sales activity in the same manner. 
Variables such as interest rates, liquidity, and bond yields can have a significant impact on cap rates and risk appetites on real estate. These variables appear to be more favorable today than during the last downturn and, in our view, should prop up pricing on non-distressed assets.
Retail sector
Challenges in the retail sector have been well documented over the past few years. Surging e-commerce and the deterioration of consumer spending at regional malls and power centers—those shopping centers primarily housing large big-box retailers—have led to bankruptcies across major retailers and countless other store reductions. Prior to the Great Recession, the delivery of new supply of brick-and-mortar retail were booming and market projections failed to recognize the looming impact e-commerce would have. When markets shifted, vacancy ballooned nearly 1.5% to 7.2% and demand never returned to pre-recession levels. 
While demand appears to have been tempered ever since, new supply growth has fallen at an even more drastic level. The weakened market conditions coming out of the Great Recession and changes in consumer spending patterns largely shifted developers' attention away from the sector over the past 10 years, minimizing new supply growth. 
This trend resulted in a slow and gradual decline in vacancies to a historical low rate of approximately 4.5% heading into 2020. The pandemic has since weakened demand as increased move-outs are causing vacancy rates to rise. According to CoStar, vacancies increased by approximately 0.5% by the end of 2020 and are forecasted to rise to approximately 5.8% before stabilizing.
While the retail sector is far from its glory days, fundamentally it was healthier pre-pandemic than prior to the Great Recession. With greater in-place occupancy and less supply pressure, we anticipate that the recovery may take place more quickly and not cut as deep. The Great Recession resulted in 15 consecutive quarters of negative retail rent growth. By contrast, rent growth is projected to stay negative for about a third as long with declines never reaching losses as steep as in the early 2010s.
Multi-family sector
By many accounts, the multi-family sector was the darling of the post-Great Recession recovery. Vacancies increased modestly by approximately 1.0% to 7.6% in 2009—a result of a temporary slowing of demand coupled with high supply growth. However, the sector's recovery was accelerated due to halted supply growth in the early years of the recovery coupled with record levels of demand, which has held firm throughout much of the past decade. Vacancies had reached a historic low of approximately 5.9% by 2013, paired with nearly a decade of consistently high rent growth.  As a result, developers and capital flooded the market, leading to a massive supply wave in most core markets in recent years—a pipeline that is still in place today.
Heading into 2020, new supply significantly exceeded demand, pushing vacancies up to approximately 6.8% and suggesting the sector was in a hyper-supply phase. Like the last recession, demand is projected to stay positive during this downturn, but will probably slow over the next few quarters. This softer demand likely will not keep pace with the already aggressive construction pipeline underway, leading to sharp increases in vacancies upwards of 8.3% according to CoStar's forecast.
What we learned from the last downturn is that demand likely will rebound quickly. This coupled with an inevitable break in the massive supply wave could potentially lead to a quick recovery and less long-term pressure on rental rates than seen across other sectors. Rent growth is projected to briefly turn negative over the next year and rebound by 2023. Core markets that have a disproportionate share of new supply underway like New York, Los Angeles, San Francisco, Miami, and Washington D.C . will likely see the greatest decline in rents.
Industrial sector
Historically, the performance of the industrial real estate market  has been closely correlated with house sales. Higher housing sales result in more space needs for construction purposes and elevated warehousing needs for large item purchases like appliances and furniture that tend to experience an increase in demand when home sales are higher. As such, the stagnant housing market of 2008 and 2009 resulted in steep demand losses. This coupled with high supply sent vacancy rates soaring by approximately 2.5% to about 10.5% and led to steep losses in rent growth following the Great Recession. Fortunately, for much of the following decade, an emergent need for distribution space supported by e-commerce together with a stronger housing market resulted in record high demand.
In many ways, the industrial sector has been on the other end of the retail sector's losses. Supply only recently caught up to demand after vacancies dropped to a historic low of 4.8% and have now settled at around 5.8%. The limited space availability has led to dramatic rent rises, posting greater than 4% year-over-year growth for much of the past decade.
Fundamentals would suggest that the industrial sector is still in an expansion phase and may weather the broader economic recession with minimal negative impact. The pandemic has led to a surge in new home sales, advanced e-commerce growth, and an increased need for data-hosting space–all tailwinds for the industrial market. 
Further predictions suggest U.S. manufacturing may also increase as a percentage of market share due to supply chain issues identified earlier in the pandemic. If the manufacturing renaissance materializes, we could see further outperformance in this sector.
Supply growth is unlikely to slow in the near term as investors are taking advantage of the upside and flooding the market with capital. As a result, supply may continue to outpace strong demand and lead to vacancy rates settling around 7%. Rent growth is projected to briefly slow while remaining positive (likely tied to broader economic uncertainty) and rebound above 4% by 2022.

Office sector
The financial crisis served up a perfect storm for the office sector. Hyper-supply was met with steep negative absorption throughout 2009 and 2010, resulting in the greatest increase in vacancies across all real estate product types. Vacancies increased by 3.0% to approximately 13.1%. Like other real estate product types, supply subsequently stalled; however, demand only truly began to rebound to somewhat normal levels around 2015, just as supply began to slowly pick back up. The result was a very gradual return to pre-Great Recession occupancy levels.
The recent pandemic has already resulted in a quarter of steeper demand losses than any time seen during the Great Recession. The duration and severity of demand losses is yet to be determined, but CoStar predicts a more modest downturn with demand turning positive as soon as the second half of 2022. 
We feel that the silver lining this time around is that weaker demand is being met with weaker supply growth. Existing inventory will probably not face the same supply pressure it did during the last downturn. Vacancies likely will still increase dramatically, but current projections suggest a 2.0% increase to about 12%, significantly less than that of the last cycle. Rent growth is projected to remain negative until demand returns sometime in 2022, but the decline likely will be more gradual thanks to stronger fundamentals entering the recession.
We at Wells Fargo Bank Real Estate Asset Management believe that the office sector is facing additional pressures that are more challenging to compute in forecasts. The performance of the office sector historically trends with employment. More workers result in more space needed to house those workers. Consequently, lost office sector employees results in lost office space demand. 
The accelerated work-from-home phenomenon is difficult to incorporate into demand forecasts. Many large employers anticipate increased work-from-home capabilities amongst their staff. If this trend exceeds expectations, the office demand losses could be much more significant and further extend the length of time this sector takes to recover. 
According to CoStar, office traffic in Q3 2020 was only 20% of Q1 2020. This metric should be closely monitored in conjunction with employment throughout 2021, as it may be our best indicator for shifting work arrangements. While we wait for the picture to come into focus, be prepared for the potential for historically high office vacancies and significant losses in rent growth.
Key takeaways
You could say the commercial real estate market's immune system is stronger today than during the Great Recession. While real estate market performance is cyclical by nature, today's downturn is primarily a demand issue suggesting its corresponding recovery may be accelerated thanks to less supply pressure.  
Office and retail investors likely will benefit from this shallower construction pipeline, curbing deeper cuts in occupancy and rental rates. Demand losses in the office sector could be more dramatic as businesses reduce their footprints and implement more work-from-home opportunities. However, we believe with time, employers may seek to find a balance of work-from-home and time in the office hoping to maximize productivity.
The robust supply pipeline in the multi-family sector will likely lead to steeper vacancy losses in the short term and probably create volatility in the market for the first time in over a decade. However, demand likely will continue to remain positive and accelerate coming out of 2021. Paired with a likely slowing of new multi-family construction starts, this sector may experience improved occupancy and surging rent growth by 2022. Investors have been starved for value in this sector for well over a decade. With many properties experiencing a decline in net operating income, perhaps value finally presents itself.
The industrial sector may continue to outperform as demand is projected to remain strong throughout this market recovery. Investors should still be cautious as this sector has potential for robust supply growth, which could lead to weakened performance down the road.
We believe that privately held real estate can still be a valuable component to an investor's financial portfolio. We feel that proper management of tenant relations and capital preservation are key to maintaining a strong positon for your properties during market downturns, and that effective real estate asset management can help you capitalize on improving market conditions coming out of this one.
Author: Brandon Skaggs, Real Estate Investment Consultant, Wealth & Investment Management, Wells Fargo Bank, N.A.
There are special risks associated with an investment in real estate, including the possible illiquidity of the underlying properties, credit risk, interest rate fluctuations, and the impact of varied economic conditions. Past performance is not a guarantee of future results and there is no guarantee that any forward-looking statements made in this report will be attained.