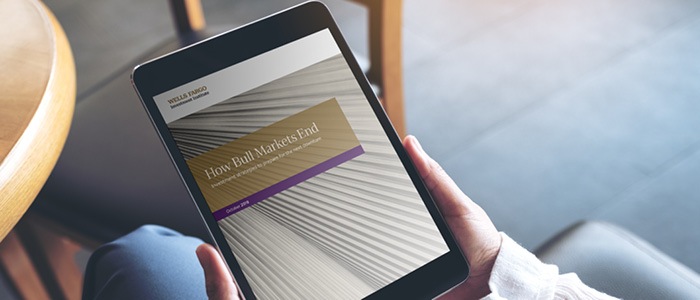 As the bull market ages, investors may wonder if it's nearing an end. While we cannot time the end of this bull market, we do know that downturns are a normal part of the market cycle—and that investors should plan for them. In its new report, "How Bull Markets End," Wells Fargo Investment Institute explores the relationship between bear markets and weakening economic conditions and how investors might prepare. Topics addressed include:
How this market cycle differs from previous ones
What has caused sustained bear markets historically
Whether we expect a bear market in the near term
Get This Valuable Information
Now may be an excellent time to sit down with your Relationship Manager to determine whether your investments have you on track toward your goals. The "How Bull Markets End" report can be a valuable resource to help guide your discussions.