To meet the needs and interests of sophisticated investors like you, our investment management team offers an exclusive opportunity to invest in a tax-aware portfolio with an enhanced design that includes broader asset allocation and best practices in portfolio construction.
The Opportunity
You have the opportunity to invest in asset classes – such as Frontier Markets, Hedge Funds, Private Capital, and Small Cap International stocks—using strategic allocations that earn potentially greater after-tax returns. This investment portfolio includes:
After-tax optimized strategic allocations and investments – Using after-tax-adjusted asset allocations and tax-sensitive selection and blending of active and passive strategies
A unique blend of active and passive external and proprietary offerings – Adding flexibility and lowering costs
Select investment managers typically available to institutional investors only and multi-asset class managers – Resulting in fewer managers, less complexity, and potential cost savings
Factor investing – Applying measurable attributes to enhance asset selection, performance, and risk management
A higher allocation to historically non- or low-correlated assets – Providing additional diversification that can potentially help reduce risk and expand potential sources of return
Portfolio Management
Your investment portfolio is built using an Enhanced Core Satellite approach which integrates industry best practices in portfolio construction.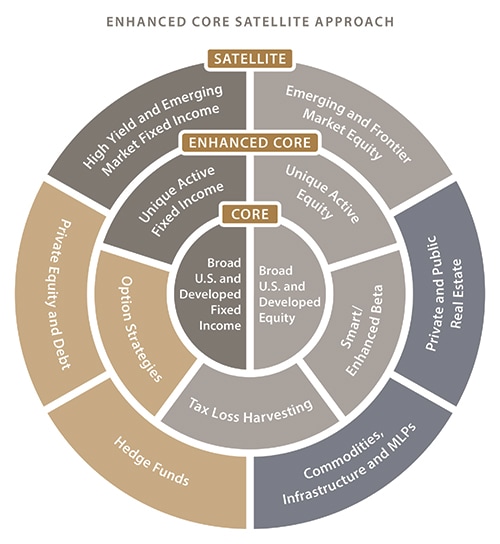 Core: Liquid and diverse markets (including broad sector and industry exposure) provide the foundation of the portfolio. The core generally consists of cost- and tax-efficient passive positions and select active strategies focused on global developed market equities and fixed income.
Enhanced Core: Core positions are enhanced by a distinctive blend of complementary strategies (e.g., Options Strategy and Tax-loss harvesting) and enhanced passive and/or unique active offerings. This process enables us to take advantage of unique market opportunities and further optimize the portfolio's overall diversification and risk/return drivers.
Satellite: Depending on your objectives, current market opportunities and risks, and unique product considerations, the satellite consists of varied allocations to alternative strategies and asset classes (e.g., Private Equity and Debt, Emerging and Frontier Markets).
Strategies and products are carefully selected to reflect our best thinking and combined to provide tailored market exposures and the potential for improved outcomes on an after-tax basis.
Advantages to You
Potential for greater return due to tax efficiencies and greater allocations in "satellite" investments
Comprehensive assessment of portfolio drivers and costs, seeking both low-cost market exposures and return-enhancing strategies where prudent
Higher degree of flexibility for asset transitioning, tax management, and overlay strategies to meet your investment needs and tolerance for risk
Frequent reviews by the investment managers and regular monitoring by risk management teams
How we can help
Our investment approach starts with you.
First, we customize your investment plan to align with your specific situation or complement your existing portfolio. To help guide our investment strategies, we leverage the Wells Fargo Investment Institute that includes some of the most experienced financial professionals in the industry. This robust team of more than 100 investment professionals brings experience in macro analysis, finance, risk management, investment strategy, asset allocation, manager research, and portfolio management.
Then, as your priorities and circumstances evolve, we adjust your portfolio accordingly. Your progress toward your investment goals is how we measure our success.
For more information about these portfolio strategies, contact your relationship manager.