Track your progress every step of the way with yourLoanTrackerSM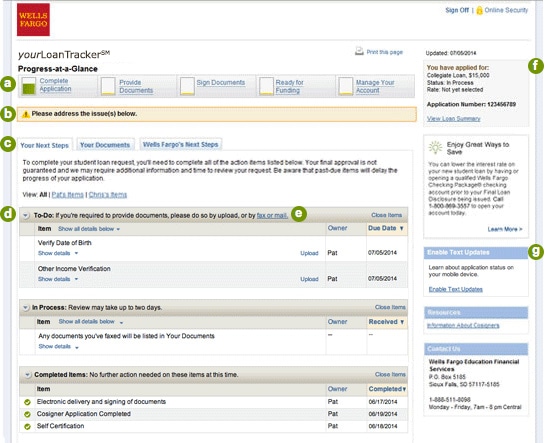 a. Progress-at-a-Glance. Select a step within this section to review a summary of the progress you have completed against each milestone.
b. Progress Alerts. Items that need your attention will be highlighted here, just below the Progress-at-a-Glance section.
c. Your Next Steps, Your Documents, and Wells Fargo Next Steps Information Tabs. Select these tabs to check your status on select items, read loan documents, and review Next Steps.
d. Your To-Do List. Located below each of the Information Tabs, your tasks and the dates to complete each task are listed when you select Show Details.
e. Send Documents. Get information about how to send requested documents for each task on your To-Do List.
f. You have applied for: This section provides an overview of your loan type, amount, status and application number.
g. Enable Text Updates. Select this section to set up, manage, and receive mobile text updates about your application status.