With a Wells Fargo Private ConsolidationSM loan, you may be able to combine multiple private student loans with multiple payments into one loan with a single payment, or refinance a single loan.
When you consolidate multiple student loans or refinance a single student loan, you may receive a lower monthly payment with a reduced interest rate or an extended repayment term.
Keep in mind that extending your repayment term may increase the amount of interest you pay over the life of the loan.
Benefits:
Enjoy a potentially lower monthly payment.
Choose from a competitive fixed or variable interest rate option when you apply.
Reduce your loan cost by qualifying for our interest rate discounts.
Pay no application, origination or early-repayment fees.
When you apply online or call a knowledgeable Student Loan Consultant, we'll help you to understand if student loan consolidation can benefit you.
Tip

Use this interactive

worksheet (PDF)

to organize your current private student loan information and make your application easier.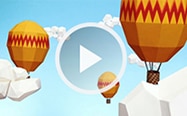 Watch and learn how student loan consolidation can help your future take flight.