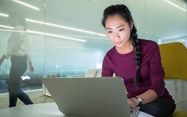 Proof of social media's explosive popularity is in the numbers. As of 2018, the majority of U.S. adults use Facebook (68%) and YouTube (73%), while the numbers are even higher for young adults – 78% frequent Snapchat and 94% visit YouTube.
With the growth of social media, online scams have evolved. To stay safe online, learn to recognize these three common social media scams.
Scam #1: Social media phishing
In one scam, a fraudulent social media account may impersonate a reputable company by using the company's name and logo to convince people to share their personal or financial information. These fraudulent posts often link to spoof websites that request your sensitive information, such as your username, password, or credit card information.
Scammers may try to convince victims to provide their information by linking to sites that appear legitimate, but whose URLs differ slightly from the real sites, such as a misspelled website name or another domain name. Once you enter your credentials on this site, the scammers can access your username and password. The links may also contain instructions to "like" a page, share a link, and complete a survey, through which scammers earn money every time a questionnaire is completed.
Scam #2: Card cracking
In this scenario, scammers use social media to post opportunities to make quick and easy money. They ask for your debit card and PIN and/or mobile banking username and password to deposit a fake check into your account. They may ask you to report your card lost or stolen or that your credentials have been compromised in order to seek reimbursement from the bank. In exchange, scammers promise you a portion of the funds you deposit.
After gaining access to your account, scammers can transfer funds or deposit phony checks into your account and quickly make withdrawals before your bank identifies the checks as illegitimate.
Not only are you robbed of your money, but you might also face hefty fines and criminal charges because your participation in this scheme makes you a co-conspirator.
Scam #3: Online dating
Scammers have been known to create fake social media accounts and use the promise of love to trick naive victims into sending them money. They may use a fictional name or falsely assume the identities of aid workers, military personnel, or other professionals working abroad.
Once they have gained your trust, they may claim to need funds for an emergency or other hardship and convince you to provide your account information or wire money before disappearing.
Some telltale signs of this scam include poor or vague communication, flowery language, a small number of Facebook pictures and posts, or a Twitter account with just a few tweets.
Tips to avoid social media scams
Do set your profiles to private and restrict your social media contacts to people you know personally.
Do be on the lookout for suspicious posts, including limited-time offers, offers that seem too good to be true, and requests for account information.
Do be wary of individuals you meet through social media sites, especially if they promise romance.
Don't respond to online solicitations for "easy money."
Don't overshare on social media by providing information used by your bank or other companies to verify your identity.
Don't fill out every field on your social media profile such as your phone number and home address – including these details increases the chance of identity theft.
If you come across a social media account impersonating Wells Fargo, report it on Twitter to @Ask_WellsFargo or send us a private message on Facebook at facebook.com/wellsfargo‡.

See more warning signs of common scams.