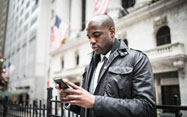 With 95 percent of American adults owning a mobile device, many phones are a common target for security breaches. In 2018, Symantec blocked an average of 10,573 malicious mobile applications each day.
A safety check-up for your device and good mobile banking habits can help you steer clear of malicious software, known as "malware," and other online threats. By following the recommendations below, you can help increase the security of your personal and financial information. 
Set up your device for optimal protection
Contact your mobile carrier to set up a PIN for your account. This extra security measure makes it more difficult for others to make changes to your account or transfer your service to a different mobile device.
Ensure the automatic update feature is enabled in your settings to help to protect your phone with the latest security upgrades.
Secure your home router with a strong password to help protect devices on your network.
Do not alter or "jail break" your device, as it may make it vulnerable to malware.
Practice mobile banking safety habits 24/7
Set up alerts to notify you of events, such as balance changes, withdrawals, and card purchases, so you can quickly detect and report suspicious activity if something doesn't look right.
Use a passcode or biometric authentication (fingerprint or facial recognition) to unlock your phone or tablet. If you use a passcode, ensure it's something only you know and that nobody else could guess, such as your birth year or address number. 
Enable two-factor authentication so that you're prompted with a one-time passcode when you log into your financial accounts. 
Only download programs and applications from a trusted source, like your mobile phone's app store or the manufacturer's website.
Always log off once you finish banking on your mobile device – do not simply close the browser or app.
Never use unsecured Wi-Fi networks in public places, such as coffee shops, airports, or other locations, to log into your financial accounts or other accounts containing your sensitive information.
If you change your phone number or other contact information, update it on your banking profile so your bank can contact you if necessary. If you're a Wells Fargo customer, you can confirm and update your contact information on the Security Center.
Work to stay secure after splitting up
When it's time to part with your device:
Unpair your phone from Bluetooth-enabled devices
Restore the device to factory settings – don't just manually delete contacts, calendars, and other personal content
Wipe your mobile device before discarding it
By making these habits part of into your everyday routine, you can help protect your sensitive information, even when you're on the go.
Explore more tips on how to stay safe online.