How to donate to the American Red Cross with Zelle®
It's fast, safe, and convenient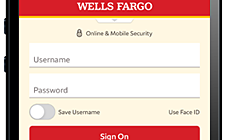 1. Sign on

Sign on to Wells Fargo Online®, then go to Send Money with Zelle® located under Transfer & Pay in the main menu and select Send. In Wells Fargo Mobile®, sign on and tap Zelle® in the bottom bar.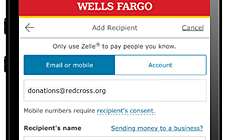 2. Add contact
From the Select Recipient screen, select the "+" icon at the upper right of your screen, enter Donations@redcross.org under Email or mobile and enter "American Red Cross" as the recipient's first name, then select Continue.
3. Verify recipient
Review the "First-Time Recipient" pop-up to ensure that it says donations@redcross.org and that the name begins with "THE AMERICAN NATIONAL RED CROSS" and select Continue.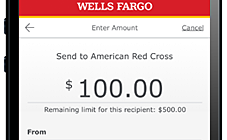 4. Enter amount, review, and send
From the Enter Amount screen, choose the account you want your donation to come from, enter the amount you'd like to donate, then select Review. Review the details of your donation carefully, then select Send.
Donate now