Manage your Wells Fargo Advisors® investment accounts with secure, single sign-on access.
Take control of your investments
This is a simple and convenient way to take an active role in investing for your future. Conveniently and effectively control your investments.
Your Brokerage Overview shows a consolidated view of your investment accounts in one place.
Get electronic versions of account statements, trade confirmations, tax documents/1099s, and other brokerage documents.
Customize alerts for relevant activities such as trade executions, market or balance changes, and news.
Transfer money easily between Wells Fargo banking and Wells Fargo Advisors investment accounts.
Download your account information easily into Quicken® or Excel.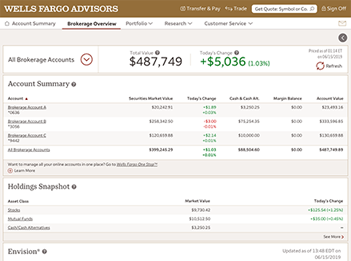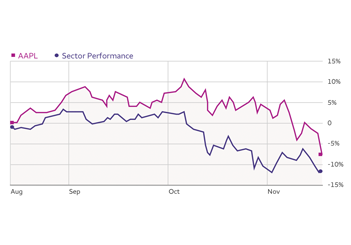 Empower your investing
Help stay connected to your account and investment information with ease on your desktop, tablet, or mobile device. Take advantage of the numerous educational resources and tools attached to your Wells Fargo Advisors investment account.
You will find a comprehensive research center where you can access online tools and educational resources to help you make smart investing decisions, including:
Stock, exchange traded fund (ETF), and mutual fund screeners.
Insightful market commentary and easy-to-understand research and investment insights from Wells Fargo Investment Institute.
Consensus ratings, news, interactive charts, and real-time quotes.

Access your brokerage accounts on the go
Enjoy the convenience and security of Wells Fargo Advisors Mobile Brokerage using the Wells Fargo Mobile® app or visit wellsfargo.com from your mobile browser, where you can:
Help stay on top of account balances, activity, and portfolio information.
Get access to market data, quotes, news, and watchlists.
Trade stocks, exchange traded funds (ETFs), options, and no-load mutual funds.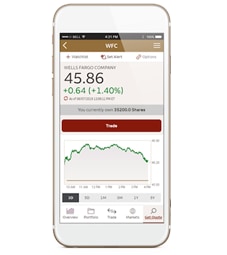 Get started managing your accounts online
Enroll now