Enjoy the convenience and security of the Wells Fargo Mobile® app.
Banking at your convenience
The Wells Fargo Mobile app gives you options for 24/7 banking anywhere you have internet access:
You can check account balances, pay bills, or transfer funds; quickly find an ATM or branch location; receive and send money with people you know and trust with Zelle®; and receive alerts to track your account activity.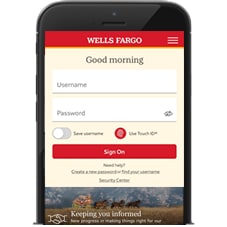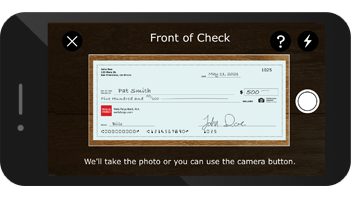 Save time with Mobile Deposit
The Wells Fargo Mobile app lets you quickly and easily deposit checks into your eligible account.

Digital wallets, a secure and easy way to pay
Add your Wells Fargo card to a digital wallet and conveniently make purchases almost anywhere – in stores, online and in apps.
Fast and convenient
No need to fumble through your purse or wallet to find your card, or re-enter your card details at checkout. Simply add your Wells Fargo cards to a supported digital wallet, and you're all set to pay.
Pay securely
Your actual card number is not stored on your mobile device, but is replaced with a unique digital card number. This means businesses do not see or store your full card number. And, you will continue to enjoy Wells Fargo's 24/7 fraud monitoring and Zero Liability protection when you promptly report unauthorized transactions.
Try it at the ATM
Conveniently get cash and more at Wells Fargo ATMs with your Wells Fargo Debit Card in your digital wallet. Just look for the Contactless Symbol, tap your mobile device, and enter your card PIN.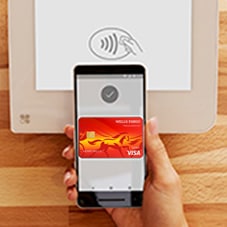 Get started managing your accounts online
Enroll now