With Bill Pay, you have the control to pay who, when, and how much you want.
Pay your bills online in minutes
With Bill Pay, your payments are:
Simple. Stay organized — make payments and review payment history in one secure, convenient location.
Flexible. Make payments on the go with Mobile Bill Pay.
Guaranteed. Our Bill Pay Payment Guarantee means payments go out as scheduled – on time, every time.
With Bill Pay, you can receive, review and pay eBills — online versions of your paper bills — from hundreds of local and national companies. Receive email alerts and set up automatic payments to your eBillers.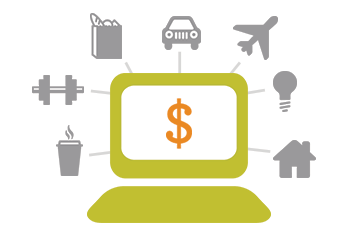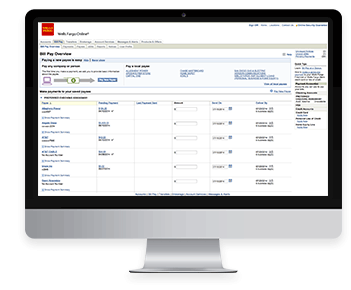 How to set up a new payee
Gather some bills, sign on to Online Banking, then select the Bill Pay tab.
On the "Bill Pay Overview" screen, select Pay New Payee.
On the "Pay New Payee" screen, enter payee name and information, including ZIP code and account number.
Choose Make Payment or Save & Pay Later.
With Bill Pay, you can pay either a company or a person through your internet-enabled device (smartphone, tablet, or computer).

Save time with local payees
Quickly find companies you regularly pay on the "Find New Payee" screen, which lists local and popular payees. Enter the account number and schedule your payment. If you don't have all of the information, you can select Save & Pay Later.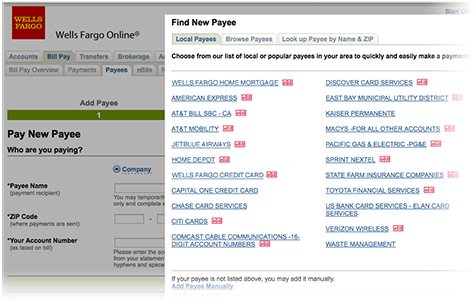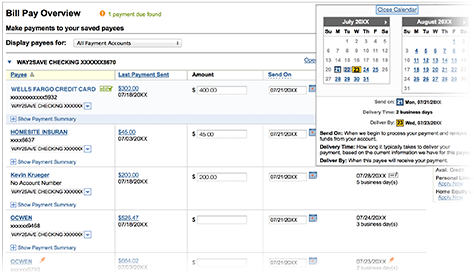 How to make a payment
You can customize each of your payments from the "Bill Pay Overview" screen.
For each payee, enter payment details and select the Send On date (based on when you want the payment delivered).
Check payment details for accuracy, then select Continue.
Confirm your payment details on the "Make Payment" screen and select Submit Payment.

Get started managing your accounts online
Enroll now