Empowering Customers with Information
Buying a home is one of the great events in a person's life. At the same time, the "borrowing" part of the process may seem complex and full of unfamiliar terminology and confusing steps.
Our job is to make sure our customers have the information and tools they can rely on to make the best mortgage borrowing decision they can. It's in our interest to do this, because no one benefits when a homeowner can't make their payments.
As we help customers make the right borrowing decision, we focus on key questions, such as:
Do they understand what it means to have an "adjustable rate mortgage?"
Do they understand what escrow is?
Do they understand the pricing on their loan?
The Right Thing To Do
As a fair and responsible home lender, Wells Fargo strictly prohibits discrimination based on race, age or other demographic factors, and also prohibits abusive, misleading, or fraudulent lending practices. We want our customers to understand the terms of their loan — including rate, pricing, payment schedule and term, as well as any other features unique to their situation. We want them to understand the terminology and language associated with their loan and what to expect after their loan closes. We work hard to provide the information needed so that our customers are able to make informed borrowing choices and feel confident in the choice they make.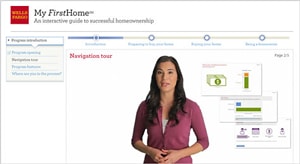 Learn the facts about homeownership in a fun, interactive way with My FirstHome®.
Additionally, Wells Fargo's credit and underwriting policies include a thorough analysis of a customer's financial situation, which is used to help determine his or her ability to repay a mortgage and be successful in homeownership. This includes verifying the customer's income over time through documentation to ensure he or she has a stable enough income history to make their mortgage payment. We also check an applicant's credit score to understand whether he or she has a history of using credit responsibly.
Customer Toolkit
These resources are just a few of the ways we support our customers in making informed decisions:
Product Comparison Tool
A state-of-the-art tool that allows customers to do a side-by-side comparison of payment, terms, and other features of various loan options.
Customize and compare options
Home Financing Process Checklist
A checklist that reduces potential confusion during the loan application process. It is available to Wells Fargo home mortgage consultants to talk through and provide to their customers. Talk to a home mortgage consultant for complete details.