What are you doing to help customers in trouble?
Innovating for Customers and Communities
Following the historic downturn in U.S. real estate markets, Wells Fargo has demonstrated leadership by deploying a wide range of practical and effective ways to reach and provide support to customers facing payment challenges and communities coping with historically high levels of home foreclosures.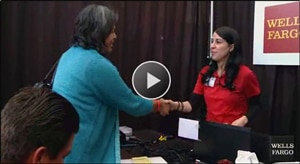 Video: Gracie, a Wells Fargo Home Mortgage team member, helps customers at a Wells Fargo Home Preservation Workshop.
For our customers
We placed more than 949,330 customers into active trial and completed modifications: That's 801,309 Wells Fargo modifications and 148,021 under the U.S. governments' HAMP. We are the industry leader in loan modifications for homeowner.
We reduced more than $8.1 billion in mortgage principal for our customers.
We participated in more than 1,250 foreclosure preservation events, including 112 of our own "Home Preservation Workshops," where our customers could meet face-to-face with Wells Fargo foreclosure prevention specialists.
We opened 25 permanent Home Preservation offices to provide support in key areas hit hard by foreclosures.
As of May 2014, we've refinanced more than 637,127 customers with loan-to-home values greater than 80% through the Federal governments' HARP program.
We've helped more than 5.6 million additional customers refinance their mortgages to lower payments.
For our communities
We developed an industry-leading community engagement strategy — Leading The Way Home® — which helps to stabilize communities and advance homeownership by connecting Wells Fargo team members to the local community and government agencies.
In 2012, we delivered 1,239 donations with value of $20.8 million; donations accounted for 4.5% of total REO sales (compared to 2% in 2011); 2,974 donations since 2009.
In 2012, we provided more than $100 million to nonprofit housing organizations. 

$89.9M for NeighborhoodLIFT ® program down payment and local initiative grants.
$14.6M to credit and housing counseling agencies.
$6M to 59 markets through the Priority Markets Initiative program.
$5.9M in support of 333 Team Member Volunteer Program projects.
We are always working to get better and — when we make mistakes — to make things right. In everything we do, we strive to approach every interaction from the customer's point of view.
Help by the numbers
Over 59,400 meetings with struggling customers
Through Wells Fargo Home Preservation Centers in 25 markets around the country, we have had more than 59,400 face-to-face meetings with customers facing financial hardship.
949,330 mortgage modifications
We have participated in more than 1,250 home preservation workshops where we meet with customers face to face, we have opened 25 home preservation centers in highly impacted areas, and we have conducted more than 949,330 active trial or completed mortgage modifications.
94% current on payments
At the end of the first quarter of 2014, 94% of our mortgage customers were current on their payments. And, although we can't help every residential mortgage holder who falls behind, fewer than 1% of our owner-occupied home mortgages proceeded to foreclosure sale over the past twelve months.