Feel more at home with your home loan
Your personalized mortgage dashboard makes it possible. Access innovative tools and explore your loan options with Wells Fargo Online®.
Find your mortgage dashboard in 3 easy steps
Sign on or enroll in Wells Fargo Online®.

Sign on   Enroll Now
From your Account Summary page, select your mortgage account.
Select Explore Dashboard in the navigation bar at the top of the page.
Transcript:
[ Music ]

Audio Description: The sun rises over a hill and a neighborhood. View of suburban homes along a street. Coffee brews inside a house. View of Wells Fargo website.  
Voiceover: A house is a place with a roof.
But a home is so much more.
It's your place to relax and feel comfortable with your mortgage.
Your new Dashboard is filled with easy-to-use tools.
Just sign on to Wells Fargo online banking and select your Mortgage account.
Then, select Explore Dashboard.
Welcome to your Dashboard home page.
A simple navigation bar at the top gives you quick access to key information about your home, your loan, the neighborhood, your goals, and education.
Want to see how adjusting your payments may save you money? 

Audio Descriptions: A woman sits on her couch using a laptop. Clicks on My Home in the navigation bar. Under Add to your Monthly Payment, uses a slider bar to choose an extra principal payment on a sliding scale from $0 to $350. Under Pay a Lump Sum, types in a Payment Amount of $15,000. 
Voiceover: Let's see how much you can reduce the term of your loan and the amount of interest you pay over time just by adding a little extra to your monthly mortgage payment.
Or add in lump sums and watch what happens.
Thinking of making a move? 
Audio Descriptions: A man sits on his front porch using a cell phone. Clicks on My Neighborhood in the navigation bar. Plotted lines show data for average sales price in your neighborhood. A map shows prices of recently sold homes by location.  
Voiceover: Search My Neighborhood and get a better idea of where you currently stand or sit.
See how your home value compares to your neighborhood and get recent sales information that can help you with buying or selling decisions.
You can also keep an eye on Home Value Trends.
Looking to feel more confident with your mortgage details?  
Audio Descriptions: A man with a baby on his lap uses a laptop. Clicks on My Loan in the navigation bar. A graphic shows Year to date interest and principal and loan start and end dates. Scrolls down to Current Escrow Balance.  
Voiceover: My Loan gives you key insights into your mortgage, including your escrow account, all in one convenient place.
Ready to set a goal?  
Audio Descriptions: A woman uses a laptop. Clicks on View Goals on the navigation bar. Multiple choice. Select your goal. Own my home sooner. Use or manage my equity. Understand market trends and my neighborhood. I'm not sure Yet. She chooses Own my home sooner.  
Voiceover: View Goals gives you the tools and the resources needed to help achieve your home ownership goal.
Check out our Learning Center, stacked with educational content.
Audio Descriptions: On the Learning Center, drop down content. She clicks on What is home equity?  
Voiceover: There's no place like home, and there's no place like your Dashboard.
Explore your home Dashboard and all the tools your online mortgage account has to offer from just about anywhere, including the comfort of your home. 

[ Music ]
Audio Descriptions: On screen text. Feel at home with your home loan. Wells Fargo Home Mortgage. Wells Fargo Home Mortgage is a division of Wells Fargo Bank, N.A. Copyright 2021 Wells Fargo Bank, N.A. All rights reserved. NMLSR ID 399801. Equal Housing Lender.
Your mortgage information at your fingertips
Use your dashboard to get a clear snapshot of your mortgage and where you stand, all in one place.
It's filled with easy-to-use tools:
Understand your loan balance, start and end dates
Get a real-time view of your escrow balance, your home's estimated value, and an amortization schedule
Set goals to own your home sooner or to manage your home's equity
Search neighborhood home values and trends
Use the education center to understand loan terms, and much more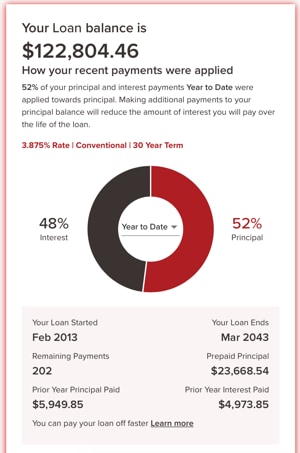 Pay off your loan faster 
Explore payoff scenarios using a customized calculator - right from your dashboard.
Quickly see how much time and money you may be able to save on your current loan by adjusting the extra principal slider.